Mets Fans Can Thank Bernie Madoff for MLB Playoff Run
by
Team cut payroll but grew talent after $500 million swindle

Aces deGrom, Snydergaard, Harvey make just over MLB minimum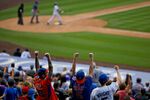 When New York Mets pitcher Jacob deGrom starts in the first game of the National League Division Series in Los Angeles, he will lead the best Mets team in a decade and one with the most homegrown talent of any team in the Major League Baseball playoffs. Mets fans have an unlikely man to thank for that: Bernie Madoff.
Mention of the Ponzi schemer may get fans howling louder than a LaGuardia-bound jet over Citi Field. But the team's Madoff-related financial losses and related lawsuits forced them to abandon their penchant for high-priced superstars in favor of cheap, young talent. As recently as the beginning of this season, observers used the front-office austerity to explain why Mets hadn't won very much.
"The Mets wouldn't have done it if they weren't forced to do it," said Steve Kettmann, author of "Baseball Maverick: How Sandy Alderson Revolutionized Baseball and Revived the Mets." "The Bernie Madoff scandal was in the end probably a net positive for the Mets."
Before the scandal unfolded in 2008, the Mets believed they had $500 million in accounts with Madoff, a team season-ticket holder. They also had loans with other institutions using those unknowingly fake funds as collateral, according to Kettmann and to reports at the time. To contain the damage, Bud Selig, then baseball commissioner, pushed Mets controlling owner Fred Wilpon to hire Alderson, a three-time executive of the year with the famously pecuniary Oakland Athletics. As part of that 2010 deal, Alderson got to run the team free from ownership interference.
The team declined to comment for this story through spokesman Harold Kaufman.
Low Payroll
Alderson swiftly cut players' salaries. When Alderson took over from Omar Minaya, the team was spending $127 million on player salaries, sixth highest in the league. By 2014, that had fallen to $85 million, 25th in baseball, according to data compiled by Baseball Prospectus. At $101 million, this year's payroll is still lower than 20 of MLB's 30 teams.
DeGrom, Noah Snydergaard and Matt Harvey -- the Mets' three starting pitchers for the playoff that begins tonight -- are downright underpaid by baseball standards. The three were paid a total of $1.6 million this season, just barely over the league minimum, according to data from Sportrac. They'll be facing a Dodgers trio that collected $68 million, including $32.6 million by Clayton Kershaw, the most ever paid to a pitcher.
Omar Minaya
Some of the credit is due Minaya, who was fired after the Mets finished fourth in the NL East for the second year in a row. He drafted deGrom and Harvey in 2010, as well as a fourth pitcher, Steven Matz, who may start Game 4. Alderson obtained Snydergaard as part of package of prospects from the Blue Jays for veteran R.A. Dickey in 2012.
Regardless of who built the team, the commitment to prospects is remarkable for a team in New York, where the pressure to win now often leads GMs to swap youth for better known veterans. "It forced them to evaluate player talent differently," said Peter J. Schwartz, a presidential research scholar at New York University who specializes in sports team valuations.
While the Mets managed to survive and thrive in the aftermath of the Madoff scandal, the team is still paying off a $162 million settlement over profits it had collected with Madoff. And management's confidence in Madoff's acumen led them to free-spending missteps that still linger. The team is still paying for Bobby Bonilla's deferred contract buyout in 2000: Bonilla will get $1.19 million a year through 2035.
That's well after every current Met has likely hung up his spikes, but 104 years before inmate 61727-054 gets released.
Before it's here, it's on the Bloomberg Terminal.
LEARN MORE