Merkel Threatened by Bavarian Leader Seeking Halt to Refugees
by
Southern German state chafes at record stream of arrivals

Bavaria vs. Merkel clash flares as chancellor stands firm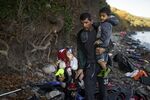 Bavaria threatened Chancellor Angela Merkel's government with a court challenge to limit the number of refugees entering Germany, escalating conflict within her party bloc over her handling of the crisis.
"We firmly say that this migration must be controlled and limited," Bavarian Premier Horst Seehofer, whose CSU party is affiliated with Merkel's governing Christian Democrats, told reporters Friday in Munich. He presented a package of measures that include securing his German state's border with Austria.
Seehofer's warning of a constitutional challenge against the federal government intensifies his clash with Merkel, who he says has bungled the response to the biggest refugee influx since World War II. Merkel has rejected caps on migration as breaching international law and Germany's obligation to assist those fleeing war and oppression.
As the main entry point for the 800,000 or more refugees expected in Germany this year, Bavaria is trying to press Germany and the European Union to uphold rules on rejecting unregistered migrants, distributing refugees within Germany and the EU, and deporting those who don't qualify for asylum.
"Should the federal government not take up effective measures soon to limit the entry of asylum seekers, thereby endangering the ability of Germany's states to act independently, then Bavaria will reserve for itself a clear course of action to the Federal Constitutional Court," state Interior Minister Joachim Herrmann said alongside Seehofer.
Merkel this week buttressed her rejection of halting the flow of refugees, many fleeing the civil war in Syria, saying such action would cause chaos akin to Hungary's construction of a razor-wire fence to keep out refugees.
"How is that supposed to work?" the chancellor said Wednesday, referring to migration caps, in an hour-long appearance on a nationally televised talk show to defend her stance. "There's no such thing as a cap on how many" can enter Germany, she said.
Before it's here, it's on the Bloomberg Terminal.
LEARN MORE