Lacker Says Fed Taking Risks With Economy at Full Employment
by
Fed's 2% inflation goal could be reached `fairly rapidly'

Slowdown in payroll gains may be sign of tightening job market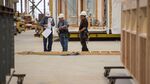 Federal Reserve Bank of Richmond President Jeffrey Lacker said the U.S. is already at full employment and the central bank may risk overheating the economy as it attempts to drive additional job gains.
With the unemployment rate at 5.1 percent, the central bank has achieved its goal and "exhausted relevant slack in the labor market," the Richmond Fed chief said.
"We're there," Lacker said in an interview in his office Thursday, referring to the central bank's mandate to lower joblessness to the level consistent with stable price pressures. The median forecast of that rate among Fed officials is 4.9 percent, according to estimates released following last month's meeting of the policy-making Federal Open Market Committee.
"Pushing on to wring more slack out -- there are some risks associated with that," said Lacker. Inflation pressures may emerge with a lag, but the "risks can be very real."
Fed Majority
Thirteen of 17 Fed officials said in September that it would be appropriate to raise interest rates this year, a sign that Lacker's views also reflect concerns of some other committee members. San Fransisco Fed President John Williams has also said that the U.S. is near full employment.
The Richmond Fed chief dissented at the FOMC's September meeting, preferring a 0.25 percentage point increase in the federal funds rate.
Central bankers kept the rate near zero, where it has been since December 2008, and minutes released Thursday showed officials worried slowing growth abroad could suppress already too-low price pressures.
Little Inflation
The Fed's preferred price gauge climbed 0.3 percent in the 12 months through August, according to figures from the Commerce Department. It's missed the central bank's 2 percent target for more than three years.
Lacker said once the effects of lower oil and import prices dissipate, inflation could reach the Fed's goal "fairly rapidly."
Lacker was sanguine about the recent slowdown in employment, saying it could be attributed to a growing scarcity for qualified labor. Employers added 139,000 workers a month to payrolls on average in September and August, down from 243,000 the prior three months.
"The thing I am concerned about is the possibility that the slowdown represents a significant tightening in the labor market," Lacker said, noting that job openings surged to a record in July.
The Richmond Fed has a long-standing focus on how borrowing costs adjusted for inflation, known as real interest rates, affect spending and saving.
Consumer Spending
Household purchases rose faster than incomes in August, and cars and light trucks sold in September at the quickest pace in more than a decade. Home sales have also been running at the best pace since 2007.
"The longer we keep real interest rates so far out of alignment with consumption growth, the more risk we run," he said. The concern is that the economy "runs past itself" so that when interest rates do increase, a pullback in growth could be "abrupt and contractionary," Lacker said.
Minutes of the Fed's September meeting showed policy makers continued to project interest rates will rise "gradually" after their first move.
Lacker said that's more a forecast than a pledge.
"What I don't want to happen is for that language to raise a hurdle to going at a more gradual or less gradual pace," he said. "We are going to have to be flexible and responsive to the data."
Reinvestment Strategy
The minutes also showed policy makers discussing when and how to end the reinvestment of income earned on the $4.5 trillion in total assets in the Fed's portfolio, most of it in the form of government bonds and mortgage-backed securities bought during various rounds of quantitative easing.
Lacker said the Fed's balance sheet "should be no larger than we need to implement monetary policy" and said the central bank should be "fairly expeditious" in shrinking it back to a more normal size which he called "a much, much smaller number."
In 2012, Lacker dissented against the committee's guidance that linked changes in the policy rate to progress on unemployment and stable prices, and against the third round of quantitative easing.
The Richmond Fed president's office on the 24th floor offers an expansive view of his surroundings. He can see a line of waterfalls in the James River and miles of Virginia piedmont to the west. Yet, how history will view recent monetary policy remains unclear, he says.
Asked to comment on whether his dissents three years ago were premature, Lacker said it is too early to tell because the central bank has yet to shrink its balance sheet. That process is risky, he said.
"Since we haven't really started yet, I think the jury's still out," he said.
Before it's here, it's on the Bloomberg Terminal.
LEARN MORE