Key Theme in Corporate Credit Risk Is That There Isn't One: Ballard
The idiosyncratic nature of recent events may further undermine risk appetite.
by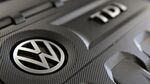 Corporate event risk has recently been on the rise, but the diversified and idiosyncratic nature of each case suggests that any future scares will remain difficult to foresee and even more difficult to pre-emptively hedge against, writes Bloomberg strategist Simon Ballard.

The lack of any apparent common thread between recent troubles for Deutsche Bank AG, Glencore Plc and Volkswagen AG may undermine risk appetite and in turn add further weight to the credit market's already evident defensive bias. Investors may even begin to question the sustainability of improved risk appetite after last week's U.S. non-farm payroll data pushed further away the prospect of a U.S. rate increase.
While the latest negative headlines from Deutsche Bank have been driven by writedowns and regulatory expenses, the recent volatility seen in Glencore risk has been largely a reaction to declining global growth and commodity price expectations. Meanwhile, the weakness experienced in VW debt and equity has been fueled by the emissions scandal and the company's alleged fraudulent data manipulation.
These event risks have been wide-reaching in nature and felt across financial and non-financial sectors. There is a clear lack of any apparent common theme across event risks, which is creating a consequent unpredictability of where future risks might lie. All of this may be exacerbating the already defensive nature of risk-asset sentiment.
An increase in idiosyncratic single-name event risk, while perhaps not a trend in itself, may simply add to already elevated levels of market nervousness. Moreover, mixed event risk may add to what some investors see as the more generic reason for recent risk-asset weakness; an overdue reaction to the artificially inflated nature of asset prices.
A common, central theme might offer investors the chance to identify and isolate additional potential risk and hedge against contagion, but the current idiosyncratic nature of event risk means that investors do not have the benefit of such insight. As such, while investors may view current, wider, corporate credit valuations as attractive, fundamentally-driven issuer selection may now still be held as the key basis for any increase in risk exposure. Investors may prefer to lose first 5-10 basis points of spread recovery than buy back into risk assets too early and without adequate analysis, only to subsequently face future capital losses.
Looking ahead, the current reporting season could fuel a short-term renewal in single-name volatility if investors increase their scrutiny of individual results, forecasts and guidance, in light of recent corporate challenges and in search of other potential corporate event risk warning signs.
Alcoa Inc., the largest U.S. aluminium company, Thursday kicked off the U.S. 3Q 2015 earnings season. The headline results were disappointing, missing consensus, but may have come as little surprise as they highlighted recent commodity price weakness and the global aluminium glut.
NOTE: Simon Ballard is a strategist who writes for Bloomberg. The observations he makes are his own.
Before it's here, it's on the Bloomberg Terminal.
LEARN MORE