What's Next? And Three Other Reasons Paul Ryan Wouldn't Want a Promotion
Even as many of them encourage him to run, Paul Ryan's colleagues say he has compelling reasons to avoid becoming speaker of the House.
By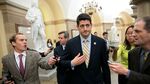 Paul Ryan, the telegenic 45-year-old Wisconsin lawmaker whom his Republican House colleagues are describing as their "consensus choice" to become the next speaker of the House, does not lack for ambition. He ran in 2012 as the Republican vice presidential nominee; he worked hard, and successfully, to win a post as chairman of one of Capitol Hill's most powerful committees. And he's got the fundraising record and political war chest of a man who's going places.