What's Next? And Three Other Reasons Paul Ryan Wouldn't Want a Promotion
Even as many of them encourage him to run, Paul Ryan's colleagues say he has compelling reasons to avoid becoming speaker of the House.
By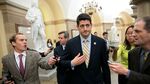 Paul Ryan, the telegenic 45-year-old Wisconsin lawmaker whom his Republican House colleagues are describing as their "consensus choice" to become the next speaker of the House, does not lack for ambition. He ran in 2012 as the Republican vice presidential nominee; he worked hard, and successfully, to win a post as chairman of one of Capitol Hill's most powerful committees. And he's got the fundraising record and political war chest of a man who's going places.
 So, why wouldn't Ryan—who so far has demurred—want to run for speaker, a job second in line to the presidency?
Let his colleagues count the ways:  
1. What's next? 
For a politician like Ryan, who has shown every indication of being interested in making a run for the White House, history suggests that the House speakership is not the brass ring to grab. The job not exactly been a pathway to the White House: James K. Polk is the one and only House speaker to ever ascend to the presidency, and that was 170 years ago. Former House historian Ray Smock, now director of the Robert C. Byrd Legislative Resource Center at Shepard University, says the first question Newt Gingrich asked him upon ascending to the speakership was for a good biography of Polk—"He was already thinking ahead"—but that certainly didn't work out so well for him.
In fact, the disastrous career ends for many recent congressional leaders (in addition to Gingrich, Senate Majority Leader Trent Lott, House Speaker John Boehner were either pushed out of office or left because of ideological differences with their own caucus) leave many thinking that taking the job could damage  Ryan's now-shiny political patina and leave him with more enemies than friends. "It's not easy with any group of 240-plus people making 230 happy on any given day," said Representative Morgan Griffith of Virginia, noting that Ryan would be facing many of the same challenges that have dogged Boehner. He adds that as speaker in the age of social media, "No matter what you do—it's immediately out there somewhere. You make one misstatement to one reporter and then all of a sudden it hits everywhere."
2. Already has a good job
As veterans of executive suite wars might attest, the top job isn't necessarily the most powerful. This is expecially true in Washington. The late Senator Robert C. Byrd, a West Virginia Democrat, once famously stepped down as Senate majority leader so he could head the Senate Appropriations Committee — a position that enabled him to dole out billions in federal dollars to his favorite causes and colleagues. Similarly, Ryan as head of the House Ways and Means Committee, where constitutionally all tax bills originate,  looms as one of the most important figures in Washington to a lot of powerful and well-heeled individuals and corporations. Moreover, he's a policy wonk who actually loves diving into tax law. 
3. Family unfriendly
Many lawmakers note that the speakership comes with the obligation to do what's needed to keep the job — meaning more traveling and fundraising on behalf of other Republican candidates. Outgoing House Speaker John Boehner was responsible for raking in at least $21 million during the 2014 campaign cycle. For Ryan, that means more wear and tear and less time with three young kids, something he experienced four years ago at Mitt Romney's running mate. 
4. He would no longer be able to avoid the fray
As a respected budget expert, Ryan has had a charmed career in the house, able to avoid most of the chamber's most bruising ideological battles without damaging his conservative credentials. The speakership, however, would require the sort of bare-knuckled politicking Ryan has so far been able to avoid in an atmosphere that even Republicans admit is dysfunctional and facing major legislative hurdles: "You know even if we took the debt ceiling bill and put in on the canonization of Mother Teresa — who's already been canonized — we'd have a difficult time getting to 218," Boehner, referring to the number needed to pass legislation, told his colleagues last week, according to Representative Dennis Ross of Florida.
"There's a great deal of dysfunction going on," said Ross. "Whoever is going to be the next speaker of the House is going to have the hardest job."