Fed's Dudley Still Sees Liftoff This Year If His Outlook Is Met
by
The New York Fed Leader cautions forecast is not a pledge

Dudley says payroll gains are enough to reduce unemployment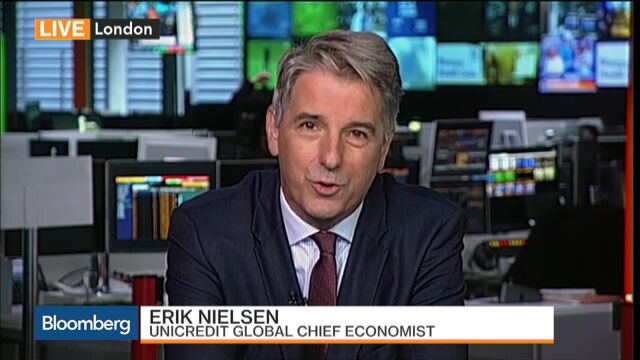 Federal Reserve Bank of New York President William C. Dudley said he expects the U.S. central bank to raise interest rates by December, echoing comments by fellow regional Fed chief Dennis Lockart in Atlanta, while cautioning that this was not a pledge to action and will depend on the economy staying on track.
Dudley told CNBC television in an interview Friday that he was still in the 2015 liftoff camp. 
"Based on my forecast, yes I am, but it's a forecast. And we're going to get a lot of data between now and December," he said. "It's not a commitment."
The policy-setting Federal Open Market Committee meets on Oct. 27-28 and Dec. 15-16. Dudley said that every gathering was 'live' for policy action and he supported the decision last month to leave rates unchanged near zero. Minutes of that meeting showed officials wanted to wait and see if slowing growth in China would undermine their confidence that low U.S. inflation will rise back up to their 2 percent target as expected.
Jobs Report
Last month's FOMC decision, and a disappointing September U.S. employment report, has sapped investors' confidence the Fed will be able to raise rates this year, as Fed Chair Janet Yellen has said she expects will be warranted. The probability of a 2015 hike is now priced around 40 percent in federal funds futures markets, compared to above 60 percent ahead of last month's Fed meeting, based on the assumption that the effective fed funds rate will be 0.375 percent after liftoff.
Dudley said the key to liftoff will be whether the labor market continues to improve, thereby putting more upward pressure on wages and inflation. Last month's jobs report was "definitely weaker," but even monthly gains of 120,000 or 150,000 are enough to continue to push the U.S. unemployment rate lower, he said. 
U.S. employers added 142,000 new jobs in September, which was below the lowest forecast of economists surveyed by Bloomberg. The Fed's preferred price gauge rose 0.3 percent in the 12 months through August and has been under its target since April 2012. 
Growing Economy
"I think we're talking about an economy that is growing a bit above trend, the labor market is gradually tightening," he said. "If we think that's going to continue in light of all the information that we receive, then we're setting the stage for liftoff." 
Dudley told CNBC he agreed with Lockhart, who said in a speech Friday he supported liftoff this year.
"The economy remains on a satisfactory track, and, speaking for myself, I see a liftoff decision later this year at the October or December FOMC meetings as likely appropriate," Lockhart said to the Society of American Business Editors and Writers in New York.
In response to audience questions, Lockhart also cited slowing U.S. growth as a concern as the Fed approaches a tightening, saying "you should detect from the way I framed my remarks that I am slightly less confident today than I was six weeks ago."
Less Slack
Last month's employment report was "certainly disappointing" but didn't change the overall picture of improvement, with labor-market slack continuing to be reduced in the third quarter, Lockhart said.
Dudley said at the FOMC meeting in September he expected the U.S. economy would cool in the second half, in part influenced by a slowing in emerging markets including China as well as a stronger U.S. dollar.
"We are sort of seeing some evidence of that slowing," partly because of a drag from inventories, he said. "The economy is downshifting a little bit. And inflation is below our objective."
The overall outlook has become a "mixed picture" with strong domestic demand and robust consumer spending offset in part by weakness brought about by a rising U.S. dollar, he said.
"You see persistent weakness in the trade sector," Dudley said. "I would expect weakness in the trade sector to persist through 2016 because the dollar has continued to appreciate over the last year."
Before it's here, it's on the Bloomberg Terminal.
LEARN MORE