Credit Suisse Said to Weigh Stock Sale of Up to $8.3 Billion
by and
Credit Suisse hasn't made final decision on size of sale

Bank said to plan sale after presenting strategic review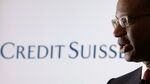 Credit Suisse Group AG is considering selling stock in an offering that may raise 6 billion Swiss francs ($6.2 billion) to 8 billion francs, people with knowledge of the discussions said.
The bank plans to proceed with the sale after presenting a new strategy to investors later this month, said one person, who asked not to be identified because the matter is private. The company hasn't made a final decision on the amount, the people said.
Chief Executive Officer Tidjane Thiam, 53, who took over from Brady Dougan in July, will present a strategy update on Oct. 21. He is under pressure to raise capital as Swiss regulators are looking to toughen requirements designed to shield the system from future financial crises. Thiam has said he plans to allocate more resources to wealth management and strengthen the bank's position in Asia, while scaling back the investment bank, mirroring an approach of UBS Group AG.
"The real, real gem in the business is the private bank, the asset-management arm," David Herro, head of international stocks at Harris Associates, said Friday in a Bloomberg Television interview. Harris is the fourth-largest shareholder in the Swiss bank, according to data compiled by Bloomberg. "They're trying to get out of some businesses, they're trying to increase their presence in others, and again they're trying to really focus on the private bank."
'Inconsistent' Regulation
Investors surveyed by Goldman Sachs Group Inc. on average estimated the bank will raise about 5.4 billion francs, according to an Oct. 1 note. Tougher capital requirements, litigation costs and the future direction of the company will all help determine the extent of any capital increase, UBS analysts Daniele Brupbacher and Mate Nemes said in a note on Friday.
Credit Suisse closed at 23.78 francs in Zurich, up 0.9 percent, after rising as much as 2.6 percent. The shares dropped 3.6 percent on Thursday after the Financial Times reported that the lender is preparing a "substantial" share sale.
"We are conducting a thorough assessment of Credit Suisse's strategy, evaluating all options for the group, its businesses and its capital usage and requirements," the bank said in a statement late Thursday. Tobias Plangg, a Zurich-based spokesman for Credit Suisse, declined to comment beyond the statement.
Earlier this year, the Swiss government announced plans to draft legislation imposing tougher leverage ratios for systemically relevant banks. The Swiss National Bank said in June that a financial crisis would still inflict substantial losses on Credit Suisse and UBS and that the lenders shouldn't "lose momentum" in their efforts to raise capital levels, even as both already meet most of the capital requirements taking effect in 2019.
"What regulation should be is clear, transparent and consistent," Herro said. "And the Swiss regulator has been inconsistent."
Before it's here, it's on the Bloomberg Terminal.
LEARN MORE