Five Things Everyone Will Be Talking About Today
There's a lot going on this morning - get caught up here.
by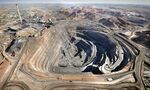 Commodities have their best week since 2012, emerging market currencies get their best week since 2008, and stocks extend their global rally. Here are some of the things people in markets are talking about today.
Commodities jump
The Bloomberg Commodities Index advanced 3.9 percent this week, led by a 10 percent surge in zinc prices following the announcement by Glencore that it is scaling back production of the industrial metal. The rebound in raw-material prices from a 16-year low reached in August has pushed mining stocks higher, with the FTSE 350 mining index rallying 18 percent the week.
EM currencies recover
Emerging-market currencies are heading for their biggest weekly gain in seven years. A Bloomberg index tracking 20 developing-nation exchange rates climbed 3.2 percent this week, recovering from its biggest quarterly loss since 2011. Indonesia's rupiah, Russia's ruble and Malaysia's ringgit were the best performers, with gains of at least 6 percent against the dollar. In fact, the rupiah posted its strongest weekly rally against the dollar since 2001 and the ringgit its strongest weekly gain since 1998 as commodity prices rise and the risk of the Federal Reserve tightening fades.
Global rally
European stocks are following Asia shares higher this morning, with the Stoxx Europe 600 index gaining 0.7 percent by 10:50 a.m. London time, its sixth straight day of gains. In China, the Shanghai Composite Index posted its biggest two-day increase in a month, with the Jakarta Composite Index closing higher to bring its gains for the week to 9.1 percent. 
U.K. data disappoints
In signs that the economy may be slowing, the U.K. posted a larger-than-expected trade deficit of 11.1 billion pounds ($17 billion) in August, the Office for National Statistics said in London. Construction output fell 4.3 percent, compared with a forecast for a 1 percent increase from a survey of economists conducted by Bloomberg. Yesterday the Bank of England signalled in the minutes of its October meeting that it has room to maintain rates at a record low as inflation weakness persists. 
Gross v Pimco
Former Bond King Bill Gross is sueing Pacific Investment Management Co. and parent Allianz SE for "hundreds of millions of dollars," according to a complaint filed Thursday in California state court. Gross, who says he was pushed out by a cabal of senior executives, is seeking payment of bonuses he says he is owed. For markets, the complaint makes great reading at it gives an insight into how Pimco was allegedly being run, and the personality clashes at the top of that organisation.
What we've been reading
This is what's caught our eye over the last 24 hours.
Want to receive this post, and more, into your inbox every morning? Sign up here
Before it's here, it's on the Bloomberg Terminal.
LEARN MORE