Syria Attacks May Complicate EU Decision on Russia Sanctions
By
EU nations seen diverging on lifting Ukraine-linked penalties

Putin's offensive may toughen bloc's resolve, EU diplomat says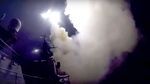 Vladimir Putin's air strikes in Syria may divide European Union governments over sanctions against Russia, an EU diplomat said, making it harder to prolong the penalties when they come up for review in the coming three months.
While Russia's involvement in the war-torn Middle East nation may be toughening some EU countries' resolve against Putin, others have signaled that Europe needs the Kremlin's help to stop the influx of refugees from the region and may take a softer line, the diplomat said.
All 28 of the bloc's members must approve the extension of the EU's economic sanctions, imposed over Russian-orchestrated violence in eastern Ukraine, which expire at the end of January. The penalties are tied to Russia's full implementation of the Minsk peace accord by an end-2015 deadline -- a date which looks likely to be missed, according to French President Francois Hollande.
With the EU dealing with the largest influx of refugees in its history, some governments are pondering whether they need to make conciliatory moves toward Putin to garner his support to help stem the tide.
On the other hand, many hardline EU governments will make the case that Putin's involvement in Syria -- which has seen cruise missiles fired at Syrian rebels from Russian ships in the Caspian Sea and a violation of Turkish air space during bombing raids -- is no different from his interference in Ukraine because it reveals a disregard for international rules, the diplomat said.
"I believe generally that we need to improve our relationship with Russia," Jean-Claude Juncker, president of the European Commission, the EU's executive arm, told an audience on Thursday in Passau, Germany. The commission is responsible for drawing up proposed sanctions for EU governments, which have the final say.
Calling Russia a proud, important country, Juncker said more normal EU relations with the Russian government nonetheless require a "massive" change of behavior by the Kremlin after its annexation of Crimea and support for rebels in eastern Ukraine.
Russia's air strikes are overwhelmingly hitting Syrian President Bashar al-Assad's opponents generally and not Islamic State extremists, French Defense Minister Jean-Yves Le Drian said on Europe 1 radio on Friday. Turkey's interim deputy prime minister, Numan Kurtulmas, said in an interview with state-run Anadolu Agency published on Friday that foreign forces should stop playing "war games" in Syria, where a new exodus of refugees could be triggered.
The EU's foreign ministers, who meet on Monday in Luxembourg for the first time since Russia started its air strikes in Syria, will attempt to reach a common response to the operation. They are not scheduled to discuss the impact on sanctions imposed over Ukraine.
U.S. and EU officials said last month they were considering extending the sanctions because of the prospect that Russia would not have met its Minsk-plan commitments.
Despite the Minsk accord's success in enforcing a fragile cease-fire after 18 months of conflict that has killed almost 8,000 people, its implementation remains deadlocked over disagreements surrounding local elections and autonomy for the rebel-held territories in Ukraine's east. While the timetable for fulfilling the agreement has grown increasingly challenging, all sides are formally still committed to it.