Air France Issues Video Asking Passengers to Ignore Violence
by
Unions appeal to government to mediate in savings dispute

Pilots talking with management again after Monday's clashes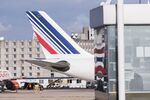 Air France is seeking to reassure passengers that workers blamed for violent clashes with managers over job cuts this week don't represent the typical employee.
"What you saw Monday isn't the true face of Air France," human resources chief Xavier Broseta, who escaped the attacks half-naked, says in a video message to frequent fliers before the film cuts to more than a dozen employees speaking Chinese, Portuguese, Russian and English.
"These violent acts were the work of isolated individuals and do not reflect the reality nor the ambition of your airline," Frederic Gagey, the carrier's chief, says in an accompanying e-mail. In an apparent reference to the cuts he adds: "In a highly competitive world, Air France needs to take brave steps to ensure its future as a leading airline with global ambitions."
France's political establishment was left reeling after this week's clashes at a works council meeting made global headlines, threatening the country's international standing as a place to do business. Air France hasn't said whether the attacks on Broseta and Pierre Plissonnier, its head of long-haul flights, during a briefing on job cuts have had an impact on bookings.
State Mediation
Unions representing ground staff and flight attendants have meanwhile appealed to the French government, which holds a 15.9 percent stake in Air France, to mediate any further talks on the company's savings plans. The Force Ouvriere, Unsa and CGT said Friday that a strategy drawn up by the airline, labor groups and government represents the best option for maintaining employment and bolstering investment.
The call came as Air France renewed discussions with pilots whose rejection of plans for productivity gains led to the imposition of the job cuts that sparked Monday's confrontation.
The meeting including Broseta, Gagey and Air France-KLM Group CEO Alexandre de Juniac went well and paves the way for a "renewal of dialog," according to a statement from the SNPL union, which said subsequent encounters will kept private to avoid further disturbance.
President Francois Hollande's Socialist government has so far sought to keep its distance, with Finance Minister Michel Sapin saying Thursday it's in the best interests of staff to accept longer hours for the same pay rather than the "less pleasant" alternative of losing 2,900 posts. That contrasts with the response to a two-week strike last year, when de Juniac was forced to drop plans for a low-cost airline based outside the country.
The ground-staff and cabin-crew unions added in their statement today that the elimination of 14 wide-body jets as detailed in Air France's job-cuts plan as an alternative to a productivity deal could lead to a further 5,000 positions being lost, with those mooted so far corresponding to only five aircraft.
Before it's here, it's on the Bloomberg Terminal.
LEARN MORE