politics
A Biden Buddy Picks a Fight Over Mortgages
Investor Gary Hindes is suing the U.S. Treasury for Fannie Mae and Freddie Mac profits.
By and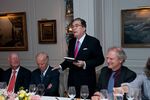 Like many investors, Gary Hindes, who heads Delaware Bay, is bullish on Fannie Mae and Freddie Mac, the mortgage finance giants. He's less happy about the Department of the Treasury's decision to take nearly all the profits generated by the companies, which have been under government conservatorship since the 2008 financial crisis, rather than allowing them to build up capital reserves or pay dividends to outside shareholders. In August he filed suit in federal court in Wilmington, Delaware, claiming the government's profit sweep violates Delaware and Virginia state laws that protect shareholder rights.
The suit pits Hindes, a former chair of Delaware's state Democratic Party, against the Obama administration—and against his old Wilmington friend Joe Biden, who's defended the administration's role in helping the housing market recover after the 2008 crisis. "In January 2009, when the president and I were being sworn in, the housing market was in free fall," Biden said in April at a Department of Housing and Urban Development conference. He rattled off a list of initiatives to reduce foreclosures and help homebuyers, and pointed to the rebound in house prices "buoyed in part by these efforts."
Investors have filed about 20 lawsuits over Treasury's profit sweep, which started in 2013. Fannie and Freddie have sent almost $240 billion to the Treasury, far exceeding the $187.5 billion taxpayers spent bailing out the companies. In 2014, Michael Stegman, an adviser to Treasury Secretary Jack Lew who's since become the White House's coordinator for housing policy, argued in a speech to the Federation of Municipal Bond Analysts that the sweeps were fair because they compensated taxpayers for taking on the risk of guaranteeing mortgage-backed securities. Without government support, Stegman said, the value to investors of Fannie Mae's and Freddie Mac's portfolios "would be greatly diminished."
Hindes says that view reflects Treasury's deep bias against Fannie and Freddie because of the role some believe the companies played in packaging subprime mortgages. "I have been urging the White House for almost two years now to have someone independent of Treasury take a look at this situation, because I think the president has been misled," he says. "I have been beating the drums on this."
Courts have ruled against investors. A federal judge in Washington last year rejected claims by Fairholme Capital Management and Perry Capital, both investors, that the government is violating federal law. The firms are appealing. Bill Ackman of the hedge fund Pershing Square Capital Management, which owns 2 percent each of Fannie and Freddie, has filed friend of the court briefs in the Fairholme and Perry cases. Pershing also filed its own suits; it withdrew one but is still pursuing another. Investors are "throwing a bunch of stuff at the wall and seeing what might work best," says David Min, an assistant professor of law at the University of California at Irvine and an expert in banking and mortgage policy.
Hindes, whose New York-based firm specializes in distressed assets, invested in Fannie and Freddie in 2011, before the housing market began to recover. The government has said in court filings that it will ask for his case to be thrown out. The lawsuit names Treasury and the Federal Housing Finance Agency. A Treasury spokesman referred questions to the Department of Justice, which declined to discuss the suit. The FHFA also declined to comment.
Hindes first met the vice president in 1973, when Biden was a freshman senator and Hindes a reporter for a newspaper in Dover, Delaware. They began socializing in 1978, when Biden was running for reelection and Hindes ran for a congressional seat. (Biden won; Hindes lost.) Biden's daughter baby-sat Hindes's children, and their families attend the same church in Wilmington. Despite his dispute over housing policy, Hindes, an early backer of Biden's 2008 presidential run, says he'd "absolutely" support the vice president again if Biden entered the 2016 presidential race.
In September, Hindes sat next to Biden at a fundraiser for the Democratic Senatorial Campaign Committee in New York. He says he hasn't wanted to put the vice president on the spot by mentioning the legal action, but he's certain his views are well known to other administration officials. "I have made very, very clear my disgust," he says.
Before it's here, it's on the Bloomberg Terminal.
LEARN MORE