VW's U.S. Chief Tells Congress Car Retrofits May Take Years
by , , and
Decision to cheat emissions tests wasn't made by the company

Cars will be fixed instead of bought back, VW's Horn says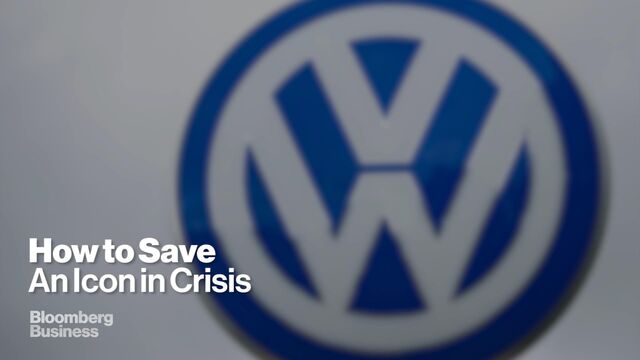 Volkswagen AG's top U.S. executive said that the emissions cheating was carried out by a few engineers in Germany without any formal decision by the company and conceded it may take years to retrofit 430,000 diesel vehicles.
Testifying before a congressional committee in Washington, Michael Horn, the president and chief executive officer of Volkswagen of America, apologized and promised a full investigation of what he said was cheating carried out by a couple of software engineers in Germany.
"This was not a corporate decision," Horn said.  When pressed by Representative Joe Barton, a Texas Republican, about whether senior management was aware, Horn said, "I agree it's hard to believe."
Responding to tough questioning from members of the House Energy and Commerce investigations subcommittee Thursday, a contrite Horn said most of the cars will need more than a software update to comply with U.S. requirements. Volkswagen is looking at adding hardware such as improved catalytic converters or urea tanks, he said. Engineers are still working on the options and will discuss with regulators when they're ready, he said.
Volkswagen will compensate customers and address any impact on performance, Horn said. He said the fixes will maintain the car's fuel efficiency. Losses to the company will depend on the fines and how much money it takes to fix the cars and compensate customers, he added.
First Hearing
The hearing was the first public questioning in the U.S. of a VW executive since the Environmental Protection Agency and the California Air Resources Board announced their investigation Sept. 18. The scandal has rocked the world's second-largest automaker, leading to the resignation of its chief executive, Martin Winterkorn, and an announced charge of 6.5 billion euros ($7.3 billion) for recall repair costs. Under the Clean Air Act, Volkswagen may be liable for fines as high as $18 billion, based on maximum penalties per car involved.
The hearing was held the same day that state police and prosecutors raided Volkswagen facilities and some employees' homes in Wolfsburg, Germany, where the carmaker is based, taking documents and electronic media.
Lower Saxony prosecutors opened a criminal probe last month after Volkswagen admitted it used software to cheat on U.S. diesel emissions tests for years. Volkswagen is facing lawsuits and government probes around the world after saying the rigged engines may have been installed in some 11 million vehicles worldwide.
Several lawmakers rejected Horn's claims that the fraud was carried out by three engineers. Chris Collins, a New York Republican, said he didn't believe Horn's assertion that top management wasn't aware and said that Volkswagen's response so far has been lacking.
Horn said three people have been suspended but declined to share names because of restrictions in German law.
Lawmakers Incredulous
"I categorically reject everything that VW is saying about a couple of rogue engineers," Collins said. Either Volkswagen management is incompetent or "they are complicit in a massive cover-up that is continuing today."
Horn reiterated that he didn't know the carmaker had installed defeat devices until a few days before a Sept. 3 meeting with environmental regulators. Horn said it appeared that the technology was installed because the cars couldn't otherwise meet U.S. emissions standards. The company doesn't plan to buy back the affected cars, but aims to fix them, he said.
The executive said he couldn't provide an exact time frame for when the fixes would be carried out. The software fix should begin early next year, while some hardware repairs could come in the middle of next year, or perhaps a bit later, he said.
"Volkswagen has betrayed a nation -- a nation of regulators, loyalists and innocent customers. It's time to clean it up or get off the road," said Representative Fred Upton, a Michigan Republican. "VW will inevitably pay a steep price for its dirty little secret. How it responds to this failure will go a long way to rebuilding or further eroding the public's trust."

"We are determined to make things right," Horn told the committee. "This includes accepting the consequences of our acts, providing a remedy, and beginning to restore the trust of our customers, dealerships, employees, the regulators, and the American public."
The automaker will ultimately face costs and lost revenue from its damaged image of more than 35 billion euros ($39 billion), according to an estimate by Warburg Research.
Emissions Cheating
Just how much money Volkswagen made by cheating on U.S. emissions tests will be a factor in the penalties that will be assessed, EPA officials said. The agency intends "to assess the economic benefit to VW of noncompliance and pursue appropriate penalties," Christopher Grundler, director of EPA's Office of Air and Radiation, and Phillip Brooks, director of civil enforcement for air, told the committee.
"The behavior to which VW admitted represents a fundamental violation of the public trust," said Representative Tim Murphy, the subcommittee chairman, a Pennsylvania Republican. "The reverberations of this violation can be seen across the United States and across the world as people grapple with the implications."
Horn learned in early 2014 that the carmaker might not be following emissions regulations on its diesel models, and the topic came up again later that year, when he was told VW's technical teams had a plan for fixing the cars involved, he said.
Initial Disclosure
The company's initial disclosure to the California Air Resources Board that it had a "second calibration" governing engines during emissions tests on three different diesel engines occurred on July 8, according to the committee. It wasn't until Sept. 3 that the company came clean with the EPA and CARB that this alternative mode was a "defeat device," shutting down pollution-control equipment as the cars drove in the real world.
Volkswagen has withdrawn applications with the EPA for certification of its vehicles for the 2016 model year.
The EPA has added on-road tests and is examining other automakers, trying to be "unpredictable" so the tests can't be defeated, Grundler said.
"I don't expect to find widespread problems, but we're going to be taking a
very close look," Grundler said. "We've learned from this episode."
Before it's here, it's on the Bloomberg Terminal.
LEARN MORE