South Sudan Rebel Leader Says U.S. Must Back Peace Accord
Sarah McGregor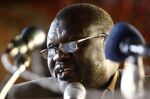 The U.S. should urgently step up support to implement a peace accord in South Sudan that it played an "instrumental" role in creating, rebel leader Riek Machar said.
The East African nation, which has sub-Saharan Africa's third-biggest oil reserves, erupted in conflict in December 2013, pitting forces loyal to President Salva Kiir against fighters siding with Machar, his former deputy. The clashes have killed tens of thousands of people, displaced more than 2 million and cut crude production by at least a third.
Faced with the threat of international sanctions, the two men in August signed a peace deal that envisages a cease-fire and 30-month power-sharing government in place by late November, followed by elections. Machar said the U.S. must remain engaged to ensure that the plan works.
"We want to sensitize the U.S. that they shouldn't leave us alone now, even with the democratization process," he said in an interview in Washington on Thursday. "We want immediate support in the next 60 days."
Machar traveled to the U.S. to attend a summit on South Sudan at the United Nations on Sept. 29, and he's since held discussions with representatives of diaspora communities in New York, Nebraska and Kansas. Machar met U.S. Secretary of State John Kerry on Wednesday in Washington to discuss accelerating the implementation of the peace deal.
Uganda Withdrawal
Machar said he asked for more help for immediate priorities such as pressuring Uganda to withdraw troops from South Sudan's capital, Juba, and laying the groundwork for national reconciliation. He said the U.S. financial support that's needed would be less than the $1.3 billion of humanitarian aid it has provided since December 2013, while American advisers and diplomatic coordination would also be useful.
The Obama administration backed South Sudan's independence from Sudan in 2011 after a referendum, and has warned that failure to end the current conflict could lead to sanctions and other penalties.
In the meeting with Kerry, the rebel leader said he also expressed concern that Kiir's plan to carve the nation's 10 states into 28 would violate the peace accord because his camp hadn't been consulted. Oil-producing regions have been a key battleground in continuing clashes.
When the conflict erupted in 2013, the U.S. had been expected to "take a more resolute stand than leaving it to us alone," said Machar.
Oil Revenue
"When left to us, things went out of hand, they couldn't be controlled," he said. "And now the U.S. has been instrumental bringing about the current peace agreements. And we want it implemented so that war doesn't continue."
South Sudan has scant financial resources of its own to overcome the conflict, Peter Pham, director of the Washington-based Atlantic Council's Africa Center, said by phone on Thursday.
Even if oil production begins scaling up, the price has fallen so low it would be hard to make money from it because the cost if pumping crude and shipping it via pipelines in the north through Sudan for export is about $40 a barrel, said Pham.
Oil traded above $50 a barrel in New York on Thursday for the first time since July. Output in South Sudan, which has sub-Saharan Africa's biggest reserves after Nigeria and Angola, is about 165,000 barrels per day, the Petroleum Ministry said in May.
Before it's here, it's on the Bloomberg Terminal.
LEARN MORE