Tanks Leaving Ukraine Battle Zone as Tensions Ease, OSCE Says
by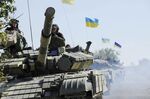 Ukrainian government troops and pro-Russian rebels are pulling light weapons and tanks from the conflict area in the country's east as "relative calm" has prevailed since early September, monitors from the Organization for Security and Co-operation in Europe have confirmed.
"We are happy to see that tanks now are starting to move out from the security zone 15 kilometers each away from the contact line," Alexander Hug, deputy chief of the OSCE mission in Ukraine, told reporters Kiev via a webcast. "This will help to reduce tensions."
OSCE monitors inspected the site of a rebel attack at the border with Luhansk and Donetsk regions in which four government servicemen were wounded. While Hug said the use of anti-tank missiles in the attack violated the cease-fire, Ukraine's army sought to play down the incident. The clash didn't have a "systemic" character and won't affect the peace process, military spokesman Andriy Lysenko said via video link.
The Ukrainian government and the pro-Russian rebels in the country's easternmost regions agreed to pull back tanks and light weapons last week. They were given 41 days to complete the withdrawal, which would bring tanks and light artillery 30 kilometers (19 miles) from each other. The separatists also agreed to postpone local elections, removing one obstacle to ending the conflict, which has killed more than 8,000 people since last year. Ukrainian President Petro Poroshenko hailed the cease-fire, saying it would pave the way for the return of rebel-held territories to government control.
Before it's here, it's on the Bloomberg Terminal.
LEARN MORE