Swedes Flock to Last Bank With Cash in Paper Money Paradox
by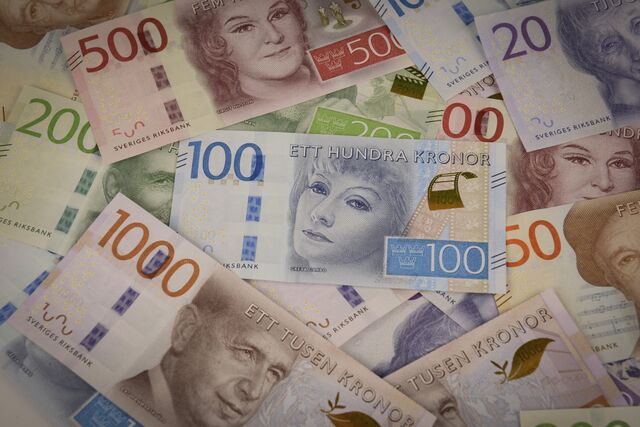 As Sweden proudly unpacks a new series of bank notes, there's only one lender left in the country that still offers manual cash handling services at all its branches.
Svenska Handelsbanken is extending opening hours and redeploying staff as Swedes pour in to convert old bills, set to become obsolete as early as next year. It will also cease manual cash handling in about 70 of its 463 local branches to be able to better focus resources on outlets where pressure is high. The new notes carry images of celebrities including Hollywood icon Greta Garbo and Pippi Longstocking author Astrid Lindgren.
"There are many challenges in a project of this magnitude and we're aware of the bank development regarding cash handling," said Susanna Grufman, head of the Riksbank's financial infrastructure division. The central bank is not worried though, partly because most of the exchange will take place at retailers, and not at banks, she said.
Swedbank, which now offers manual cash handling in only 10 of its 296 branches, recommends its customers to first and foremost shop with the old notes as long as they are valid, according to Claes Warren, a spokesman.
The country's retail industry has criticized the cash-shunning banks for leaving it to shops to deal with the transition. The Swedish Trade Federation estimates it will cost the industry 1 billion kronor ($122 million) -- a burden that in the past would have been more evenly shared with the financial sector.
"We're rather alone in all this," said Bengt Nilervall, the federation's head of payments.
But there's a more serious monetary policy angle.
The Riksbank said in a Sept. 30 report that negative rates function better in a cashless society. Because it's now so inconvenient to use cash in Sweden, consumers are less likely to convert to paper money even if interest rates go negative, according to the report. That means central bank rates have a better chance of feeding through to the economy. The Riksbank's efforts to revive inflation prompted it to cut its main rate to minus 0.35 percent in July.
While banks have to pay for overnight deposits at the central bank, they have refrained from passing that cost on to private clients. The interest rate on most savings accounts is zero. But the Riksbank says the monetary benefits of a cashless society are worth noting.
"In a system without cash, we can basically set negative interest rates without any problems at all," it said. "In that case, very negative nominal rates, as a part of an expansionary monetary policy, cannot be ruled out. How this more theoretical reasoning can be put into practice is an open question."
Before it's here, it's on the Bloomberg Terminal.
LEARN MORE