Schwarzman Says More Wall Street Regulation Counterproductive
By
Blackstone CEO says new rules would undercut recovery

Clinton unveils proposal to rein in big banks, trading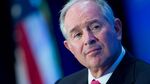 Steve Schwarzman, the billionaire co-founder and chief executive officer of Blackstone Group LP, said calls by Hillary Clinton and the other Democratic presidential candidates for more regulation of Wall Street will do more harm than good by undercutting an already slow economic recovery.
"You can't have an economic recovery with the financial sector in retreat and under siege," he said in an interview in Washington. "If you want to take the position that the system is so at risk, that we must dramatically change things, then you will get slow economic growth, you will have higher levels of unemployment."
Schwarzman said that while he hasn't reviewed Clinton's proposals, which include reining in high-frequency trading, strengthening the Volcker rule and imposing a "risk fee" on big banks, previous efforts at regulating Wall Street haven't been effective.
On another proposal being circulated by some candidates, Schwarzman, a past Republican donor who hasn't endorsed a candidate in the 2016 presidential race, said ending the carried-interest tax advantage enjoyed by firms like Blackstone wouldn't have a significant impact on tax collections. Schwarzman, who is worth $11.5 billion according to the Bloomberg Billionaires Index, endorsed a flat tax as the way to make the system more equitable.
Clinton, President Barack Obama and Republican presidential candidate Donald Trump all have called for ending lower tax rates for carried interest.
Christine Anderson, a spokeswoman for Blackstone, said Schwarzman's support for the flat tax represents his personal position. The firm favors comprehensive tax reform as long as everything is on the table, she said.
Schwarzman was in Washington on Thursday to attend the Veterans Initiative Summit, a gathering of private-equity firms committed to hiring workers who have left the U.S. military. In addition to Blackstone, executives from Carlyle Group LP, KKR & Co. and TPG Capital participated.
"Companies understand that hiring these men and women isn't just the patriotic thing to do; it's the right thing to do for their bottom lines," said First Lady Michelle Obama, who met with executives at the summit.
Schwarzman said more than 28,000 veterans are working at companies within his firm's portfolio.