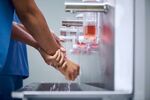 Staphylococcus aureus can strike healthy, young people with no known risk factors, survive a barrage of antibiotics, and sometimes be fatal. The bacterium, which often resides on people's skin, is usually harmless. But some varieties can turn deadly if they lead to an infection that invades the lungs or bloodstream. One antibiotic-resistant strain frequently found in hospitals is responsible for about 75,000 serious infections and 10,000 deaths in the U.S. a year, according to the Centers for Disease Control and Protection. Attempts to create a vaccine have been disappointing. That hasn't stopped Pfizer from trying. "It's one of the biggest bacterial problems that anyone's ever encountered across the years," says Annaliesa Anderson, a senior director in Pfizer's vaccine research division in Pearl River, N.Y. "If we can solve it, it will be a great benefit to health."
The pharmaceutical giant has spent more than 15 years working on a vaccine against the bug and is in the midst of testing it on patients preparing to undergo elective spinal surgery. A 2,600-person trial is expected to be completed in 2017, and, depending on the results, the data could be submitted to the U.S. Food and Drug Administration in support of Pfizer's application for regulatory approval. "Ultimately, this could be something that you're using as a normal pre-op procedure," says Credit Suisse analyst Vamil Divan. "You get your chest X-ray, you get your EKG, your blood work, and then you get a vaccine, and it helps lower your risk of acquiring a staph infection while you're in the hospital."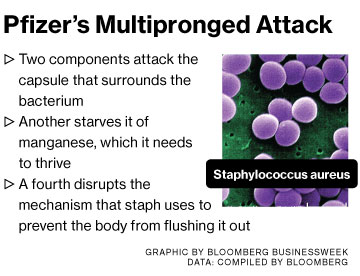 If the trial produces a viable drug, Divan predicts Pfizer's annual revenue from the single-shot vaccine could reach as much as $5 billion. That would make it one of the most lucrative vaccines of all time. It would also help Pfizer replenish its pipeline following patent expirations for profitable blockbusters such as cholesterol treatment Lipitor and arthritis drug Celebrex.
Other drugmakers have tried to bring a staph vaccine to market. Robert Daum, director of the University of Chicago's MRSA Research Center, says prior experimental vaccines were able to ignite an immune response in trial patients, but not in a way that protected them against infection.
Nabi Biopharmaceuticals, before its 2012 merger with Biota Pharmaceuticals, failed to show that its staph aureus vaccine could prevent infection in a late-stage, 3,600-person trial. Merck gave up on staph vaccine development in 2011 after its trial of 8,031 patients showed that while those who received the vaccine developed antibodies to ward off the bacterium, they were also more likely to die if infected. "Staph is a very difficult organism to make a vaccine against," Daum says.
Pfizer's researchers are trying a multipronged approach. Two of the vaccine's components go after a capsule that cloaks the bacterium and prevents the immune system from recognizing it. Another deprives the organism of manganese, which staph needs to stay alive and fight the body's immune response. A fourth targets the mechanism staph uses to lodge itself in the body and let the infection take hold. Pfizer, in an e-mailed statement, described the results from a previous trial of the vaccine as "encouraging."
Daum is worried Pfizer's vaccine won't protect against types of staph that are more prevalent outside hospitals. "What I'm looking for is a more generalizable vaccine that works against multiple staph syndromes and multiple strains." The company says it sees the potential to expand the uses for its staph vaccine. Says Pfizer's Anderson: "One could envision there are many areas and populations that could benefit from prevention of this disease."
The bottom line: Pfizer's vaccine against staph aureus, now in trials, could become a $5 billion-a-year blockbuster—if it works.
Before it's here, it's on the Bloomberg Terminal.
LEARN MORE