Norway Says Tax Reform to Boost Marginal Oil Projects Amid Slump
by
Lower corporate tax will stimulate activty, Oil Minister says

Oil lobby has `no reason' to complain about lacking incentives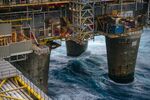 Norway's proposed tax reform will benefit marginal oil projects such as increased-recovery plans at a time when producers are cutting costs and delaying investments amid a slump in commodity prices.
The Conservative-led minority government's proposal to cut the corporate tax to 25 percent from 27 percent while raising Norway's special petroleum tax to 53 percent from 51 percent will help producers because the base for the corporate tax is wider than for the special tax, Petroleum and Energy Minister Tord Lien said in an interview in Oslo on Thursday.
"Any improvement of the tax framework will stimulate higher activity, that's the whole idea," he said. "Especially for investments that aren't that profitable, the measure in the budget will have an impact."
Norway is headed for the biggest drop in investments in its offshore industry in 15 years as oil companies including Statoil ASA, Total SA and Royal Dutch Shell Plc cut spending and close down production earlier than planned after crude prices more than halved from a June 2014 high.
Lien declined to quantify the effect of the proposed changes appearing in yesterday's budget. The impact will be "marginally positive" for oil companies, analyst Teodor Sveen Nilsen of Swedbank AB said yesterday.
The Norwegian Oil and Gas Association, which represents producers, has called for incentives to support increased-recovery projects and expressed disappointment yesterday that the budget didn't include any.
"They have no reason to be disappointed," Lien said.
Before it's here, it's on the Bloomberg Terminal.
LEARN MORE