Paul Ryan Said to Weigh House Speaker Bid Under Republicans' Pressure
By and
Ways and Means chairman taking weekend to consider his options

Debt limit must be raised by Nov. 5; government shutdown looms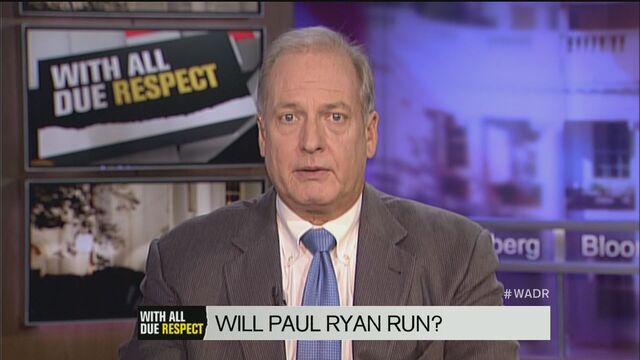 Representative Paul Ryan is weighing entering the race for U.S. House speaker amid widespread pleas from fellow Republicans to run.
Ryan remains deeply resistant to the idea of seeking the speaker's job, people who have spoken to him said, and his staff continues to say he doesn't want the post. The job came open after a hardline faction forced Speaker John Boehner to announce resignation plans and his top lieutenant to drop out of the race.
Boehner has implored Ryan to run. So has Mitt Romney, the party's 2012 presidential nominee, along with other top Republicans in Congress. 
"It's my understanding that he's giving it a second thought," said Michigan Republican Fred Upton, who said he spoke to Ryan on Friday and expects an answer in the next few days.
Ryan's deliberations come as the party casts about for new leadership less than four weeks before a Nov. 5 deadline to raise the U.S. borrowing limit or risk default, a task that some lawmakers say grows more difficult without a strong figure atop the caucus. Immediately after, the U.S. government faces a Dec. 11 deadline for a possible government shutdown, something Boehner could not head off in 2013.
Fiscal Deadlines
Ryan is flying back to Wisconsin and will have his first detailed conversation with his wife, Janna, about the decision tonight or tomorrow, according to one Republican familiar with Ryan's thinking. He's concerned about the impact on his family from the speaker's non-stop travel to raise money for the party, this Republican said.
Vin Weber, a former House member from Minnesota and longtime friend of Ryan who was a national co-chairman of Romney's campaign, urged Republicans to give Ryan space to decide.
"Back off. Let him make this decision. You don't want him to be dragged into this job if he doesn't want it," said Weber, who once was Ryan's boss when Ryan was a junior staffer at Empower America, an influential conservative think tank prominent in the 1990s and 2000s. 
Conservative Resistance
Many members of the party establishment inside and outside the House believe they can wear down Ryan's lack of interest in the job by convincing him that no other option will work in time to deal with upcoming fiscal deadlines.
Allies are discussing issues such as the manner in which Ryan would ascend to the speakership, including how he would overcome resistance from some conservatives. Members of the House Freedom Caucus -- whose resistance to Boehner and Majority Leader Kevin McCarthy helped pushed them out -- have made clear Ryan would have to work for their votes.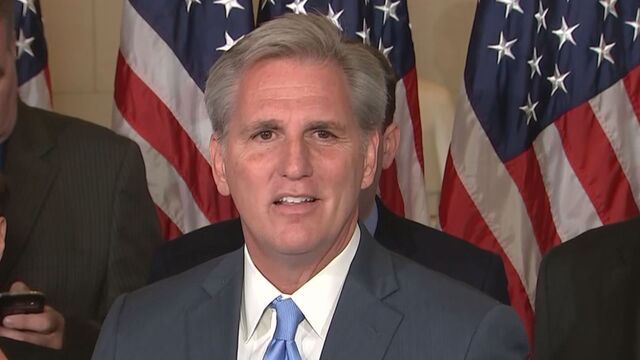 The calls place Ryan unexpectedly at a pivotal moment in his career, which at age 45 already includes a stint as Romney's running mate and as the chairman of the powerful House Ways and Means Committee. In that post, Ryan has longed to pursue a comprehensive tax reform bill.
Ryan Shocked
Ryan was shocked at how quickly he found himself facing this decision, from walking into a caucus meeting Thursday to nominate McCarthy to immediately being pressed to run when McCarthy bowed out, the Republican familiar with Ryan's thinking said. 
Ryan had hoped his initial statement disavowing interest in the post Thursday would squelch the entreaties, this Republican said, but even a second statement denying interest did nothing to cool the ardor.
Known to be interested in the White House, Ryan has resisted past attempts to lure him to the speakership, because it's viewed as a political dead end. James K. Polk is the only House speaker ever to ascend to the presidency, and that was 170 years ago.
Anyone considering the speaker's job would realize it could block a presidential run, said conservative Republican Marlin Stutzman of Indiana.
'Conservative Fighter'
"That would be very difficult," he said. Stutzman said he could support Ryan if there were rule changes to empower rank-and-file lawmakers. "Paul can go head-to-head with the president. Bottom line is I want a conservative fighter," he said.
Ryan could use answering the party's pleas to be House speaker as a political calling card for higher office but he also has watched Boehner, McCarthy and others get beaten up badly in the ranks of leadership.
Brendan Buck, a Ryan spokesman, told reporters, "Chairman Ryan appreciates the support he's getting from his colleagues but is still not running for speaker."
'Thinking About It' 
Still, Representative Chris Stewart of Utah said Ryan is "thinking about it," after a private meeting Friday among House Republicans. Darrell Issa of California said the lawmaker "is reconsidering, he is doing the soul searching he would need to do."
Ryan has made clear he already has his dream job in the House: chairman of the powerful Ways and Means Committee, which sets the fiscal and spending priorities that have been Ryan's specialty throughout his career.
Some of those pushing Ryan to run say he can only achieve his fiscal goals by taking the top job, because a broken and leaderless House wouldn't be able to intelligently confront the looming twin deadlines.
"His goals as Ways and Means chairman will not be reached unless we have a functional House," Issa, a California Republican, told CNN, saying he believes Ryan ultimately will run.
'Indispensable Man'
"Paul Ryan is as close to the indispensable man as you can get," said Oklahoma Republican Tom Cole.
Boehner told Republicans during Friday's meeting that he is determined to get a deal to raise the debt limit, said Representative Dennis Ross. The speaker acknowledged that getting enough votes to pass a debt-limit increase would be difficult even if the late Mother Teresa were attached to it, Ross said. Boehner had planned to leave Congress by the end of October, but has said he'll stay until a new speaker is chosen.
Ryan, 45, is viewed by many as a unifying force. His biggest bipartisan accomplishment was a two-year budget deal he negotiated with Democratic Senator Patty Murray in 2013. Stewart of Utah said that among Ryan's strengths are national experience and fundraising prowess.
"You guys know I am not a walk and talk guy," Ryan said Friday afternoon to reporters who asked if he's running.
Chaffetz Stance 
Amid the possibility of a Ryan candidacy, two others who had been seeking the job said they were willing to back off.
Jason Chaffetz of Utah, who declared his candidacy for speaker earlier, said Friday, "I would not run against Paul Ryan." Ryan "absolutely" is the only one who can get a majority vote to become speaker, said Lynn Westmoreland of Georgia, who had said Thursday he would run for the job.
"There will be an-all out push to get him to reconsider his position," said Republican Stephen Womack of Arkansas. "For this position, let's face it, our bench is not deep."
Still, other Republicans weren't ready to embrace Ryan as the solution.
"I'd think we be open to talk to him," John Fleming of Louisiana, a co-founder of the Freedom Caucus of conservative Republicans. But he said the caucus is not going to just "jump on board" with anyone without talking to them. The Freedom Caucus is a group of almost 40 conservatives instrumental in Boehner's departure and McCarthy's decision Thursday not to seek the top job.
Freedom Caucus
Freedom Caucus member Mark Meadows said Ryan didn't announce his intentions during the meeting and that conservatives are waiting to see who emerges. Meadows wouldn't say whether he would support Ryan. "Certainly he would be a very credible candidate," he said.
Republicans Jim Jordan of Ohio, Justin Amash of Michigan, Thomas Massie of Kentucky and Louie Gohmert of Texas said they are sticking with their support of the Freedom Caucus's endorsed candidate, Dan Webster of Florida.
Treasury Secretary Jacob J. Lew has said Congress must raise the debt limit by about Nov. 5 to continue paying the nation's bills. Lawmakers have struggled to increase the limit since Republicans won control of the House in the 2010 elections, nearing the brink of default in 2011 and 2013 as conservatives battled to attach policy changes. Standard & Poor's downgraded U.S. debt for the first time in 2011.
Shutdown Risk
Conservative Republicans forced a 16-day partial government shutdown in 2013 in an unsuccessful effort to defund Obamacare. Last month, their insistence on defunding Planned Parenthood as part of federal spending legislation prompted Boehner to announce resignation plans and rely on Democratic votes to avoid an Oct. 1 shutdown.
Those lawmakers are likely to try again when the short-term government funding measure Boehner helped shepherd runs out Dec. 11.