Lula's Back in Charge in Brazil to Save Rousseff and Himself
by and
Cabinet changes have Lula's people back in inner circle

Workers' Party looks for 2018 candidates and only sees Lula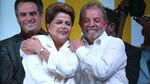 President Dilma Rousseff of Brazil was so close with her chief of staff that aides said if she ever fired him it would be like firing herself.
Last week, that's what she did. The removal of Aloizio Mercadante and other top ministers showed not only political desperation amid fears of her impeachment but also the surprise return of Rousseff's predecessor and mentor, Luiz Inacio Lula da Silva. By replacing Mercadante with a key Lula confidant, Rousseff is allowing Brazil's most dominant politician of the past half century to again become a central presence in the presidential palace. He is being eyed as a candidate for 2018.
"Dilma's main goal is to protect her term, so she's doing this not because she would like to, but because she needs to," said Cristiano Noronha, vice president of Arko Advice, a political consulting firm.
Only a few months ago, Lula was actively distancing himself from Rousseff, telling religious leaders behind closed doors that he was disappointed in her and where she had taken their Workers' Party. Famous for reaching out to ordinary people and embracing them, Lula lamented that Rousseff had failed to do so.
It was a low point in the relationship between the "creator and his creation," as Brazilian newspapers refer to them. There were reports that they went more than a month without speaking. Many assumed Rousseff was bent on demonstrating her independence and Lula on distancing himself from his deeply unpopular successor.
But as Rousseff clung to her small inner circle and impeachment loomed, the pair began to see their fate as inextricably tied. Rousseff began heeding Lula's advice; Lula called the party to support her. By ceding slots in her government to his allies -- three ministers, including chief of staff Jaques Wagner, political coordinator Ricardo Berzoini and press secretary Edinho Silva -- and letting them work with Congress, Rousseff is trying to save her presidency by sharing it.
"We have a holy trinity: Dilma, Lula and the PT -- they're inseparable," Rui Falcao, president of the Workers' Party, known as the PT, said in an interview. "They can die in an embrace or they can save each other together."
Political Animal
Brazilians know Lula as a political animal, a natural negotiator who can simultaneously charm Wall Street investors and minimum-wage workers. It was his pragmatism a decade ago that helped him survive his own cash-for-votes scandal and impeachment scare, and then win reelection by a landslide a year later.
He also had the luck to lead one of the world's top commodity producers through years of record prices for iron ore, oil, soybeans, sugar and coffee as China's seemingly insatiable demand fueled a boom in emerging economies. His vision for social inclusion had political benefits as well, as he spent Brazil's windfall on social programs that helped him leave office with more than 80 percent approval rating.
Rousseff, with considerably less charisma, is trying to right her political ship as what is expected to be the longest recession since the Great Depression threatens social gains achieved during the first 13 years of PT rule. Unemployment has crept up to 8.6 percent, inflation is at almost 10 percent and the economy is expected to contract almost 3 percent this year.
Cutting government expenses and raising taxes to reduce deficits in this adverse political climate would be a challenge for any leader. Rousseff recognizes she needs Lula's negotiating skills and popular appeal, said Gabriel Petrus, a political consultant.
Rousseff's press office didn't respond to an e-mail seeking comment on Lula's renewed influence in the presidential palace. Instituto Lula said it had no comment.
The Pacifier
Rousseff's new chief of staff is Jaques Wagner, a Lula confidante who replaces Mercadante. Lula refers to Wagner, former governor of the northeastern state of Bahia, as "the Pacifier," for his role negotiating with Congress during the vote buying scandal that almost toppled him. Now 10 years later, the ruling coalition that was supposed to be newly solidified is still dragging its feet on important votes.
The new cabinet combination -- aimed at convincing Congress to pass unpopular austerity measures and fend off impeachment -- was designed by Rousseff and Lula with a handful of PT elite. Falcão, the PT president who was in the meetings, said Rousseff did most of the talking but after Falcao and the others left, Lula stayed behind to speak with his successor one-on-one.
In many ways, Lula's decision in 2009 to pick Rousseff, then his chief of staff, as his successor was a surprise. Her rise from Rio Grande do Sul state politics via appointed positions in Lula's cabinet meant that her 2010 presidential campaign was her first election. While she had an inspiring biography, she was ill-prepared for the give-and-take of Brazilian politics, according to Joao Paulo Peixoto, political science professor at the University of Brasilia. Now the PT is worried, and many members are rallying behind a presidential bid by Lula in 2018 as the party's only chance to avoid oblivion.
Influence trafficking
A July poll by the National Transport Confederation showed Lula would be competitive in the first round of all voting scenarios presented, but would lose in a runoff to all three most likely candidates from the opposition PSDB party. Of respondents following news of the Petrobras corruption scandal, some two thirds think both Lula and Rousseff are guilty.
Prosecutors last week decided not to investigate allegations of Lula's involvement in kickbacks paid to political parties by companies that won contracts with Petroleo Brasileiro SA, as the state oil company is formally known. The Federal Police has, however, opened a case to examine his alleged influence trafficking abroad in favor of construction and engineering giant Odebrecht.
Before it's here, it's on the Bloomberg Terminal.
LEARN MORE