Shin vs. Shin: Lotte Family Feud Escalates as Patriarch Sues
by
Disgruntled brother launches second coup attempt this year

Retail giant's mysterious ownership structure revealed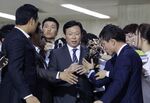 The power struggle atop Lotte Group, the Japanese-Korean retail giant, deepened as Chairman Shin Dong Bin faced a renewed leadership challenge from his older brother and father.
Shin Kyuk Ho, the 93-year-old founder of the group, sued his younger son and other board members of Lotte Holdings Co. to nullify the patriarch's July 28 ouster on grounds that he was illegitimately deposed, according to a statement on Thursday from his elder son, Shin Dong Joo. In response, Lotte Group said the current chairman's leadership is legitimate and that the suits won't disrupt management at the retail conglomerate.
"Shin Dong Bin is unfit to be a manager," the elder brother, who's more fluent in Japanese than Korean, said through a legal adviser. He cited losses Lotte racked up during its expansion into China as an example of his brother's unsuitability to lead the group.
The move is the latest twist in one of the biggest family feuds that's gripped South Korea, where power struggles at corporate dynasties -- known locally as the chaebol -- are rarely displayed in public. Shin Dong Joo, acting through his father, in July tried to have his younger brother fired from Korea's largest retail giant only to see the plan backfire as the patriarch became sidelined to an honorary position.
'Latest Salvo'
"The elder son's latest salvo could make the family dispute drag on longer as more of these tit-for-tats between the two sons are to be expected," said Chae Yi Bai, a researcher at the Center for Good Corporate Governance, a shareholder activist group in Seoul. Still, Chae said he doesn't expect Shin Dong Joo to prevail unless he proves his younger brother or his management team to be unfit or illegitimate.
Though Lotte Holdings is based in Tokyo and has operations in Japan, the group generates the bulk of its business in Korea, where it has 80 affiliates in areas ranging from department stores to amusements parks and hotels with estimated 112 trillion won ($96 billion) of assets. Lawsuits were filed both in Korea and Japan, according to the statement.
The Lotte case, and more broadly the chaebol, are somewhat of a national obsession. The feud between the Shins has often led local news broadcasts, with some networks interrupting regular programming to cover a press conference or even the arrival of a family member at the airport. A chaebol strife was even fodder for one of Korea's most popular TV dramas recently that focused around a sister and brother fighting for control of a conglomerate.
Separately, Shin Dong Joo's statement today also provided some clarity to Lotte Group's ownership structure. He owns 50 percent of closely Kwang Yoon Sa, which in turn is the biggest shareholder of unlisted Lotte Holdings with a 28.1 percent stake, according to the statement. Lotte Holdings is key to controlling the conglomerate because of its various stakes in group affiliates.
Shares of Lotte's listed South Korea affiliates rose. Lotte Shopping Co. gained 0.8 percent to close at 269,000 won in Seoul, while Lotte Confectionery Co. climbed 0.5 percent. The benchmark Kospi index gained 0.7 percent.
Shin Kyuk Ho, born in the southern Korean city of Ulsan in 1922, started Lotte in Japan in 1948 after completing his university studies there. The company started off selling chewing gum in postwar Japan and quickly grew into a major confectionery company. His Japanese name is Takeo Shigemitsu.
In response to questions about the patriarch's health, Shin Dong Joo said today that his father has no problems in decision making.
(An earlier version of this story corrected the day of the week the statement was made.)
Before it's here, it's on the Bloomberg Terminal.
LEARN MORE