Lena Dunham, Media Mogul
The creator of Girls invades your inbox.
By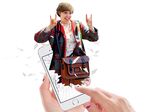 Early one morning in late September, Lena Dunham e-mailed 200,000 people with the subject line "Lena Dunham interviews Hillary Clinton in Letter No. 1." This was the debut of Lenny, a biweekly newsletter from Dunham and Jenni Konner, the executive producer of Girls, the HBO comedy Dunham created. (Lenny: Lena and Jenni. Get it?)
It's been three years since the premiere of Girls, in which Dunham stars as a scattered young Brooklynite, and a year since she published her memoir, Not That Kind of Girl. That she felt restless, at 29, for yet another venture is evidence of both her ambition and her energy. If Dunham were any more of a polymath, she'd be Steve Martin.
"We are so lucky to have a platform [with Girls], but it's a premium cable television show, into which we are not necessarily slipping endorsements for politicians and products we care about," Dunham explains. She's also an astute reader of Internet trends, as that's basically where her audience lives. So she's no doubt aware that the newsletter as a form is experiencing a renaissance, in part because many twentysomethings read mostly on their phone, so it's easiest to reach them if you send content directly to their inboxes. First came Goop, the aspirational lifestyle guide started in 2008 by actress Gwyneth Paltrow. Other celebrity-run entries soon followed, including Preserve from Blake Lively, which was launched in 2014. There are also headline-driven ones such as theSkimm and funny options like Today in Tabs.
A newsletter can function like a lower-budget version of a website, but for Lenny, that's less true. It's being distributed through MailChimp, which charges $875 a month to send it out. The more significant costs come from paying employees and maintaining a headquarters. Lenny employs a chief executive officer, and one part-time and two full-time editors, including editor-in-chief Jessica Grose (who's written for Bloomberg Businessweek), and plans to pay outside contributors rates competitive with the New York Times and Slate.
Despite the direct-distribution model, newsletters, like all media, are still a gamble. Leaked Goop filings show it brought in more than $1.5 million in revenue in 2012—but still posted a loss of more than $30,000. The day after Lenny launched, Lively announced that Preserve would cease publishing. The business models vary: Some seek out traditional ads; others charge for subscriptions or negotiate content-sponsorship or e-commerce fees. For now, Dunham and Konner are funding Lenny themselves, though they have tentative plans to start designing and selling exclusive products through the newsletter.
When Dunham first announced Lenny in July, she positioned it as being more intellectually and politically engaged than its lifestyle-oriented counterparts. Of course, it includes fashion chatter and interviews with celebrities, but it also contains material that is "really, really, distinctly political," Dunham argues. She plans to sell products that "make sense for our readership," such as things "ethically made" by small businesses.
But reading Letter No. 1, you may find the content not quite as radical—or at odds with mainstream commerce—as promised. The 3,000-plus-word conversation with Clinton is anodyne stuff. Dunham, a Clinton supporter, at one point asks the presidential candidate if she's a feminist. Then there's a relatable moment in which Dunham resurfaces a Nineties-era Clinton dress with shoulder cutouts. "A design of my friend Donna Karan," Clinton explains, as she and Dunham debate whether she should revive the look. Other moments will seem progressive only to the most sheltered reader. There's an essay by Kira Garcia about why marrying her girlfriend was "the most radical thing I could do." It's followed by a personal-health advice column that answers the question "How Do I Know If My Period Is Weird?"
The final article, which aims to explain a recent denim revival, might seem the likeliest to contain some hard-hitting material. Will we get a glimpse inside the sweatshops producing our jeans? Not so much. The piece profiles a pair of Portuguese designers who are "making your idealized self become a reality." They sound like interesting, creative people. If there were a button to buy their work, I might have clicked.
Before it's here, it's on the Bloomberg Terminal.
LEARN MORE