Lagarde Says China's Enormous Economic Shift Will Be Bumpy Ride
By and
Chinese authorities committed to 'play by rules' on currency

Lagarde reiterates call for Fed to hold off raising rates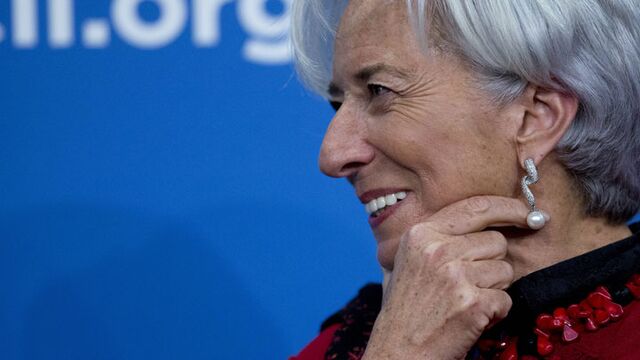 China is undergoing an "enormous" economic and financial transformation that, while anticipated by Chinese policy makers, will still create some turbulence for the global economy, IMF Managing Director Christine Lagarde said.
"China is moving, and predictably so, from an investment-driven model to a more consumption-driven model, and this is a choice, this is deliberate," Lagarde said in a Bloomberg Television interview Thursday at the International Monetary Fund's annual meeting in Lima. "It will not be without bumps on the road, but it's a good evolution and it's legitimate at that stage of development."
Lagarde, 59, cited the shift as one of several "massive" transitions facing the global economy, including the prospect the U.S. Federal Reserve will raise interest rates for the first time since 2006, and the slump in commodities prices.
Chinese policy makers are committed to moving to a more market-determined exchange rate as part of the country's economic reforms, Lagarde said.
"This is an enormous change which is difficult to absorb, difficult to manage, difficult to communicate," she said. "I do believe that the Chinese authorities understand that phenomenon, want to play by the rules, want to monitor expectations as much as they can."
No Hurry
Lagarde reiterated the IMF's view that the Fed has scope to leave the benchmark policy rate near zero, with inflation running below the central bank's 2 percent target. Fed officials have said their decision on when to start tightening will depend on U.S. economic data.
"What we're saying is inflation numbers have to be solid," Lagarde said, adding that the fund respects the independence of central banks. "For the moment, there's not much on that horizon, neither on inflation nor on wages."
In a speech last week in Washington, Lagarde said the world may be destined for a long stretch of mediocre growth unless policy makers ramp up spending and guard against turbulence in emerging markets.
A slowdown in emerging markets driven by weak commodity prices forced the Washington-based fund cut its outlook this week for global growth in 2015 to 3.1 percent from a July forecast of 3.3 percent.
The IMF warned this week that over-borrowing by companies has left emerging economies vulnerable to financial stress and capital outflows.
In 2015, emerging markets will see their first year of negative capital flows since 1988, as investors pull $541 billion from countries such as China and Brazil, the Institute of International Finance said in a report last week.