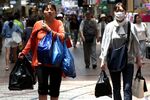 Three years into Abenomics, Japanese consumers are shouldering a bigger tax burden than ever before, while the nation's largest companies report record profits.
The Abe administration's decision to go ahead with a sales-tax increase last year not only pushed Japan into recession as people curtailed spending, it's set to raise to about 61 percent the proportion of national government revenue that comes from personal income tax and the consumption levy. That's a record dating to 1989, when the sales tax was introduced.

Company income tax is projected to comprise just 20 percent of revenue in the fiscal year ending March 31, 2016, according to budget projections, down from a third in 1989.
Tax revenue is forecast to hit 54.5 trillion yen ($453 billion) in the 12 months through March, according to the finance ministry. That will be the highest level in 24 years and a jump of 10.6 trillion yen from fiscal 2012, when Prime Minister Shinzo Abe took power.

The rising tax burden comes on top of flat wages for Japanese workers. Real wages adjusted for inflation slid 2.8 percent last year and haven fallen in five of the eight months through August this year, according to the labor ministry.
"Companies are not bringing all their profits back home, but reinvesting some of it overseas," said Shinichi Ichikawa, chief market strategist at Credit Suisse Group AG in Tokyo. "Tax revenue won't rise much even when they report record profit."
The government is poised to cut income tax for companies further in a move to boost investment. It plans to raise the sales tax again from April 2017, as it tries to rein in the swelling national debt.
Debate is likely to keep raging about whether taxing consumers is a productive way to do this, in a country that also needs to spur economic expansion to keep ahead of its borrowing obligations.
Before it's here, it's on the Bloomberg Terminal.
LEARN MORE