Hungary Says Croatia Border Closing Hinges on Result of EU Talks
by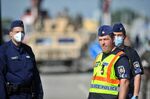 Hungary will decide on whether to seal its border with Croatia after consultations with European leaders, Janos Lazar, minister in charge of Prime Minister Viktor Orban's office, told reporters on Thursday.
Hungary has "99 percent completed" a barrier on its Croatian frontier, Lazar said at a news conference in Budapest on Thursday. A force that includes troops from other countries in the region is ready to join Hungary in patrolling the border, he said.
Hungary has until early December to decide whether to mount a legal challenge against binding European Union quotas on the distribution of refugees within the bloc, Lazar said. The number of migrants who crossed into Hungary from the western Balkans reached 330,000 this year and may rise to as many as 600,000 by the end of 2015, he said.
Before it's here, it's on the Bloomberg Terminal.
LEARN MORE