business
Hours-Long FIFA Interrogation Led to Sepp Blatter's Suspension
Tariq Panja
Lawyer released statement saying Blatter hadn't been heard

Blatter and UEFA's Platini get 90-day soccer suspension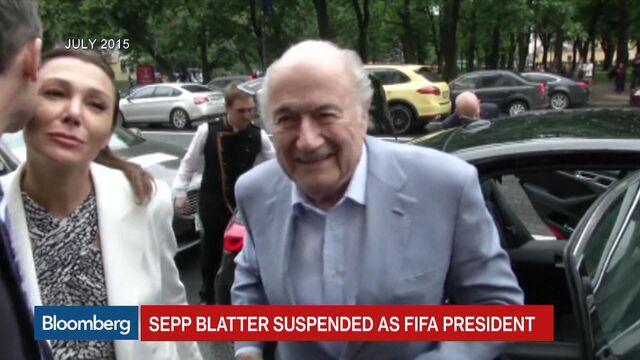 FIFA President Joseph "Sepp" Blatter and European soccer leader Michel Platini were questioned for several hours by FIFA's own investigators over a 2 million Swiss franc payment to Platini, two people familiar with the probe said.
The details of the internal investigation, just prior to both men's suspension from soccer for 90 days, show how far FIFA insiders have pushed in response to the Swiss attorney general's probe of their own organization. And they reveal how deeply isolated Blatter and his inner circle have become within the organization he ran with an iron fist for nearly two decades.
They also fly in the face of claims by Blatter that he was never allowed to make his case to FIFA's ethics committee about the legitimacy of the fees, which the Swiss attorney general's office has called a "disloyal payment."
Blatter was informed Thursday by FIFA that he would be suspended from any participation in the sport while further investigations are conducted into his behavior. The provisional suspension comes a month after Swiss authorities opened a criminal probe into an allegation that Blatter approved an illicit payment to Platini.
Shortly after his suspension Blatter released a statement, saying he wasn't afforded due process because he'd been denied the "opportunity to be heard." Yet, the 79-year-old was interviewed by a FIFA ethics investigator on Oct. 1, the same day another investigator talked with Platini, recently considered a favorite to replace Blatter as the president of FIFA, said two people familiar with the process.
Blatter is appealing the ban, his adviser Klaus Stohlker said.
Blatter and Platini have both denied any impropriety, and said the payment relates to advisory work carried out by Platini from 1999 to 2002. They have yet to make it clear why it took nine years to pay the balance. Platini suggested FIFA, which grosses more than $5 billion from its World Cup games, had a cash flow problem and deferred his payment.
Bitter Election
The payment to Platini was made in February 2011 and came amid another period of crisis at FIFA. The organization was under severe pressure to explain how it chose wealthy desert-state Qatar to host the 2022 World Cup and Blatter was embroiled in a bitter election campaign with ex-Asian soccer head Mohamed Bin Hammam. Platini expressed his support for Blatter at about the same time. 
The details of the payment were passed to the Swiss attorney general's office by UBS AG, which is among the banks cooperating with a probe by Swiss authorities into the awarding of the 2018 and 2022 World Cups. Karina Byrne, a UBS spokeswoman, declined to comment.
The Swiss attorney general's office then queried the payment with FIFA, said one of the people familiar with the matter.
Blatter's U.S.-based lawyer Richard Cullen didn't respond to an e-mail for comment. Andreas Bantel, a spokesman for FIFA's ethics committee, cited FIFA's rules that forbid any comment on ongoing ethics proceedings. Chief investigator Cornel Borbaly and German judge Hans-Joachim Eckert, who decided Thursday's suspensions, have both appealed to FIFA to publish more details of their work. FIFA's board, led by Blatter, pushed the decision back to December at their last meeting.
Blatter Stunned
Blatter, who has denied any wrongdoing at FIFA, was stunned when Swiss prosecutors questioned him for several hours following FIFA's last executive committee meeting on Sept. 25. They also talked to Platini, who was later described as being "between a witness and an accused person" by Swiss Attorney General Michael Lauber.
Blatter and Platini are accused of as many as four breaches of FIFA's ethics code, according to people familiar with the internal probe.
Blatter will clear his name, said Stohlker, the media adviser. Blatter is planning to be back to attend the world player of the year awards in Zurich, open a new FIFA museum and attend the election of his successor, Stohlker said.
"He will be back, don't underestimate him," Stohlker said. "He has 40 years at FIFA and he fought all his life for that organization. He really created it on a global basis and he won't give up."
Fifth Term
Blatter said he'd step down from his post just four days after winning a fifth term amid an escalating crisis created by the U.S. Justice Department unsealing an indictment in May. U.S. prosecutors accuse senior FIFA officials of "rampant" corruption.
Earlier Thursday, Platini had supplied FIFA with the signatures of support he needed to fight for the FIFA presidency on Feb. 26 just hours before his suspension was announced.
For more, read this QuickTake: The World Cup
"I reject all of the allegations that have been made against me, which are based on mere semblances and are astonishingly vague," Platini said in a statement.
(Updates with appeal in sixth paragraph.)
Before it's here, it's on the Bloomberg Terminal.
LEARN MORE