Gross Says Pimco Executives Plotted His Ouster to Get His Bonus
by
Describes clash with El-Erian over expansion away from bonds

Claims Ivascyn led `cabal' seeking bigger share of profits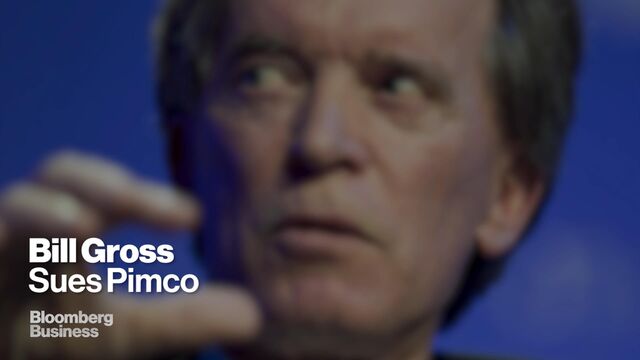 A year after Bill Gross was ousted from the firm he helped build, he is looking for vindication.
In a lawsuit filed Thursday, the co-founder of bond giant Pacific Investment Management Co. accused the firm and several of its executives of pushing him out in order to divvy up his 20 percent share of Pimco's profit pool. Gross seeks "hundreds of millions of dollars," money the billionaire plans to give to charity should he win, his lawyer Patricia Glaser said.
"Driven by a lust for power, greed, and a desire to improve their own financial position and reputation at the expense of investors and decency, a cabal of Pimco managing directors plotted to drive founder Bill Gross out of Pimco in order to take, without compensation, Gross's percentage ownership in the profitability of Pimco," according to the 20-page complaint filed in California state court in Santa Ana.
"This lawsuit has no merit and our legal team will be responding in court in due course," Michael Reid, a spokesman for Pimco, wrote in an e-mail. "Our focus remains on our clients and their investment portfolios." A spokeswoman for Allianz SE, Pimco's parent, said the suit was without merit and declined to comment on the allegations.
For Gross, who's worth about $2 billion according to the Bloomberg Billionaires index, the fight with Pimco isn't about the money. It's about his reputation and how the history books will portray the end of one of the greatest careers in money management. Gross, whose behavior at Pimco had been depicted in media reports as erratic, said in May he'd been a "wimp" for not standing up for himself. Now, he says he wants to expose "improper, dishonest, and unethical behavior"' by the executives who ousted him, according to the lawsuit.
Detailed Account
The lawsuit contains a detailed account of the events leading up to Gross's departure last year, a move that rattled bond markets and prompted record redemptions at what once was the world's largest mutual fund. It portrays Gross, 71, as an advocate for lower fees and traditional, lower-risk bond investments who was pushed out gradually by other executives seeking to expand into riskier assets and higher-fee products.
Gross left Pimco on Sept. 26 of last year, joining Janus Capital Group Inc. in Denver to run a small bond fund. Shortly afterwards, Pimco named Dan Ivascyn, a money manager who ran the top-performing Pimco Income Fund and several alternative investment vehicles, to succeed him as chief investment officer for the firm.
Mohamed El-Erian, Gross's former co-CIO and heir apparent for many years, had announced his resignation at the start of 2014, prompting media reports of clashes between Gross and Pimco's management. El-Erian is now chief economic adviser for Allianz and a Bloomberg View columnist.
El-Erian's Exit
According to the lawsuit, El-Erian had sought to expand Pimco's business from fixed income into other asset classes, such as equities, commodities, real estate and hedge fund-like products, a push that Gross opposed. When Gross offered to step back from his role and focus solely on the fixed-income business, El-Erian was "angry and apprehensive at the idea that he would have to bear sole responsibility (and blame) for the high-risk, high-fee investments he had expanded Pimco into," and he abruptly announced his resignation, the complaint states.
The lawsuit says that another Pimco money manager, Andrew Balls, subsequently made several phone calls to newspapers on behalf of El-Erian, leaking information in an effort to harm Gross. Pimco's management didn't accept an offer by Balls to resign and rejected a request by Gross that El-Erian be denied a portion of his $50 million bonus for the first quarter, according to the lawsuit.
The complaint claims the turmoil surrounding El-Erian's departure emboldened other managers, including Ivascyn, to take advantage and seek financial gain. The higher-fee investment vehicles Ivascyn oversaw had generated "hundreds of millions of dollars" in each year for Pimco, yet the firm's bonus pool didn't allocate profits to specific business units, instead pooling all of them in one bucket, the complaint states. And 20 percent of that pool was allocated to Gross, the document said.
Ivascyn, Harris
"Ivascyn believed that Pimco was paying Mr. Gross tens of millions of dollars that should have instead gone to Ivascyn," the complaint said. So he "hatched a plan to oust Mr. Gross from Pimco."
The lawsuit says Ivascyn found an ally in Brent Harris, who opposed proposals by Gross to lower mutual fund fees to better compete with low-cost index products, and the two went on to "recruit" other Pimco executives who stood to gain from upheaval.
El-Erian, Ivascyn, Balls and Harris didn't respond to requests for comment. The spokeswoman for Allianz said that the company learned about the complaint via media reports, and that Gross terminated his position at Pimco and immediately moved to a competitor.
Because Gross left a few days before the end of the third quarter, he received only a fraction of his bonus for 2014, which was "on track" to reach $250 million, according to the complaint. Pimco refused to pay him any portion of his third-quarter bonus, Gross claims.
'Hundreds of Millions'
Gross is suing the Newport Beach, California-based firm for wrongful termination, breach of written contract, and breach of covenant of good faith and fair dealing. He claims he suffered damage of at least "hundreds of millions of dollars" as a result of "constructive termination." The lawsuit puts the damage from breach of written contract and breach of covenant of good faith and fair dealing at no less than $200 million.
Gross says he wouldn't personally keep the money he might recover should he win. Glaser, his lead attorney, said that any proceeds from the lawsuit will go to charity, including the Pimco Foundation.
Gross's departure last year sparked a selloff in the markets he had favored, including U.S. Treasuries, credit derivative indexes and the Mexican peso. It sent the shares of Allianz down the most in almost three years, and lifted Janus's stock to its biggest gain on record at the time.
Pimco's Redemptions
Investors pulled billions from Pimco, but little of it followed Gross to Janus. At its height in 2013, Pimco oversaw about $2 trillion in assets. It has since shrunk to about $1.5 trillion. The flagship Pimco Total Return Fund, which Gross oversaw until his departure, now manages $95.5 billion, roughly a third of what it had at its peak.
Total Return, now run by Scott Mather, Mark Kiesel, and Mihir Worah, gained 1.7 percent in the past year, beating 74 percent of similar funds, according to data compiled by Bloomberg.
Gross runs the $1.38 billion Janus Global Unconstrained Fund for Janus Capital Group Inc., which has lost 1.9 percent in the past year, according to data compiled by Bloomberg. That performance puts him in the middle of his peer group, trailing 51 percent of unconstrained funds.
Before it's here, it's on the Bloomberg Terminal.
LEARN MORE