Five Things Everyone Will Be Talking About Today
Busy morning, time to get caught up
by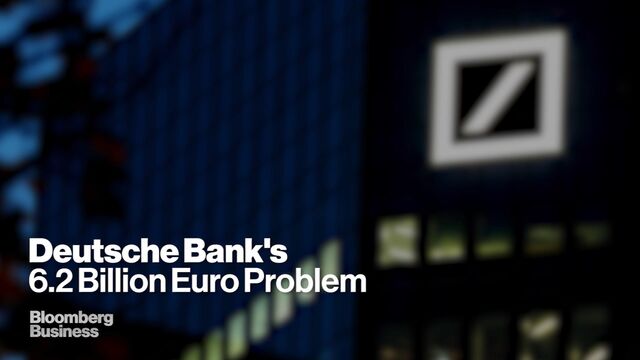 German exports plunge, China markets reopen after week-long break and Deutsche Bank's $7 billion loss. Here are some of the things people in markets are talking about this morning.
German exports slump
In the steepest drop since January 2009, German exports fell 5.2 percent in August, much more than the 0.9 percent estimated by economists. Imports slid 3.1 percent leaving Germany's trade surplus at €15.3 billion ($17.2 billion) for the month. This adds to what has already been a bad week for German data amid signs of a slowdown in Europe's largest economy. The DAX Index of German stocks was 0.1 percent lower at 10:40 a.m. London time.
Chinese markets reopen
The Shanghai Composite Index closed 3 percent higher in its first session after its week-long break due to a Chinese national holiday. The rally was led by automakers after the government reduced the purchase tax on vehicles through the end of next year. Bocom International Holdings Co.'s Hao Hong, the strategist famous for calling both the start and the peak of China's stock boom, has described this rally as an opportunity to sell as he sees no bull case in Chinese equities.
Deutsche Bank takes writedown
Deutsche Bank expects to report a €6.2 billion ($7 billion) third-quarter loss and may eliminate its dividend as it writes down the value of its two biggest divisions and boosts legal-cost reserves. Co-CEO John Cryan said that bonuses at the bank would also have to be cut meaning the bank may struggle to retain senior staff. Shares in the bank were 0.3 percent higher at 11:00 a.m. London time after dropping as much as 3.6 percent at the open before trading 2.7 percent higher in a volatile open to the session.
Bank of England and the ECB
The Bank of England announces its monetary policy decision at 7:00 a.m. ET, with all 41 economists surveyed by Bloomberg expecting no change from the bank. The bank will also publish its assessment of the economy today which markets will watch for clues to the likelihood of the timing of a future rate rise. Separately, the ECB will publish an account of its latest monetary policy meeting which may show how much support there is on the board of the bank for extending the current QE program beyond September 2016.
Volkswagen problems continue
Doubts have been raised over the level of Volkswagen AG reported death and injury claims in the U.S. over the last decade as the numbers have been so good as to make some industry experts question their validity. Already this year, Honda Motor Co. has been fined in the U.S. for underreporting claims and Volkswagen's reported claims are significantly below the number Honda was fined for. 
What we've been reading
This is what's caught our eye over the last 24 hours.
Want to receive this post, and more, into your inbox every morning? Sign up here
Before it's here, it's on the Bloomberg Terminal.
LEARN MORE