Fast Retailing Tumbles Most in Two Years on Poor Earnings
By
Uniqlo U.S. and J Brand losses hurt earnings last fiscal year

Company has seen rising sales contribution from overseas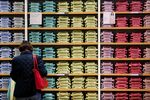 Fast Retailing Co. fell the most in more than two years after earnings and forecasts missed analyst estimates due to losses at its Uniqlo and J Brand businesses in the U.S.
The shares tumbled 9.8 percent to close at 43,900 yen in Tokyo, the steepest decline since May 2013. The Yamaguchi, Japan-based company said Thursday that net income will probably rise 4.5 percent to 115 billion yen ($957 million) in the year ending August 2016, compared with the 141.6 billion-yen average of 14 analyst estimates compiled by Bloomberg.

Billionaire Chairman Tadashi Yanai's goal to turn Asia's biggest clothing retailer into a world leader with sales of 5 trillion yen by 2020 faces a hurdle from its operations in the U.S., where expansion amid what the company called "relatively low recognition" of the Uniqlo brand has led to sustained losses. The company also risks alienating some customers in Japan, its largest market, with price increases that Yanai said were inevitable because of a weaker yen.
In the fiscal year that ended last August, operating profit rose 26 percent to 164.4 billion yen and net income climbed 48 percent to 110 billion yen, both lagging behind analyst projections. Revenue increased 22 percent to 1.682 trillion yen, compared with estimates of 1.665 trillion yen.
"Last year's result missed the market consensus by a large degree," said Dairo Murata, an analyst at JPMorgan Securities Japan Co. "That's a negative surprise and lowered the base for this year's projection."
J Brand Losses
A 16.1 billion-yen impairment loss relating to J Brand and some Uniqlo USA stores and a 1.8 billion-yen charge on the retirement of fixed assets at flagship stores in London and Shanghai hurt profit last year, Fast Retailing said.
"We want to achieve an early profit turnaround in the U.S.," Yanai said at a briefing in Tokyo, adding that he'll send managers who know Uniqlo operations well to carry out reforms in the U.S. "Fast Retailing, across the entire company, will strive to support the business."
Sales may rise 13 percent to 1.9 trillion yen in the current 12-month period, the company said. Analysts projected 1.92 trillion yen. Operating profit will probably rise 22 percent to 200 billion yen, lagging behind estimates of 231.8 billion yen.
More than 80 percent of Fast Retailing's revenue comes from Uniqlo. Japan still accounted for about 46 percent of the label's sales last fiscal year, even though the company has steadily increased the contribution from overseas stores in the past three years.

Shrinking Consumption

The retailer forecast Uniqlo's same-store sales in Japan will rise about 4 percent this fiscal year, down from 6.2 percent a year earlier.
"We can't avoid minimum price increases for our products to maintain quality, and Japanese consumers are in money-saving mode," Yanai said at the Tokyo briefing. "Consumption is far from strong, but rather stagnant or even shrinking."
The company plans to increase prices by 10 percent on average for its fall and winter wear in Japan this year, Chief Financial Officer Takeshi Okazaki said in April. Uniqlo's domestic and overseas sales rose 9 percent and 46 percent, respectively, in the 12 months ended Aug. 31.
Uniqlo sales in mainland China, Hong Kong and Taiwan expanded 46 percent. Operating profit in the region, which Fast Retailing described as a "standout," jumped 66 percent. Losses at Uniqlo stores in the U.S. widened, the company said.
Yanai reiterated a plan to open 100 stores a year in Greater China to reach 1,000 outlets. The medium-term target for that region is 3,000 stores, he said in February.
The company expects to add 195 shops for a total of 3,173 by the end of August 2016. The number of Uniqlo stores overseas will exceed those in Japan for the first time, Yanai said.