Fast-Food Chains Are Pigging Out
Pulled pork is growing rapidly as pricey beef lags.
By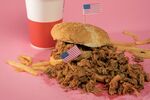 Judging by the three-year sales slump at established McDonald's restaurants in the U.S., some might think these shouldn't be fat times for sandwich sellers. Don't tell that to Applebee's. It's seen the chain's Triple Hog Dare Ya sandwich—a ciabatta bun loaded with pulled pork, ham, and bacon—become an "instant hit" since its debut in May, says Cammie Spillyards-Schaefer, Applebee's vice president for menu development and innovation. "We have absolutely seen increased consumer demand for pork," she says. "It's moved beyond bacon."
Applebee's, Wendy's, and Burger King are among a growing number of U.S. restaurants drawing more customers through their doors and drive-thru windows with new menu items or limited-time offers featuring the humble meat. The flurry of pulled pork promotions this year reflects restaurants' push to boost sales by giving consumers an affordable dish to eat away from home while also helping their own profit margins, says Bonnie Riggs, an analyst for researcher NPD Group. Record U.S. pork production in 2015 is making the meat far cheaper than beef. Says Riggs: "It's something new, different, besides a burger and chicken sandwich."

The amount of pulled pork at U.S. food-service establishments has risen 13 percent a year on average from 2013 to 2015, up from a 6.4 percent growth rate from 2011 to 2013, according to data compiled by researcher Technomic for the National Pork Board. And there were 57 limited-time pulled pork offers at the top 500 restaurant chains this year through August, Technomic says.
Although 90 percent of those customers on average bought pulled pork only once from March through August, they increased their average check to $8.40 during the limited-time offer from $8.17 before, according to NPD. Buyers of the meat outspent nonbuyers by more than a dollar during the limited-time offer.
Food-service traffic climbed to its highest level in six years in 2015 but still hasn't returned to the peak reached right before the Great Recession. Visits to quick-service hamburger chains, midscale and family dining eateries, and independent restaurants continue to decline, Riggs says. But pulled pork is resonating with consumers, because it hits several trends simultaneously. Barbecue has become more popular—think of all those cook-offs on cable food channels—as have fresh ingredients and new flavors, says Bloomberg Intelligence analyst Jennifer Bartashus. Also, from an operational standpoint, pulled pork—the shredded meat of a pig's shoulder, known strangely as the butt—is an "easy entry point" into barbecue fare for restaurants, unlike brisket or other more complicated dishes, she says.
Burger King's limited-time pulled pork sandwich this summer was among new items that bolstered the chain's sales in the second quarter. Wendy's, which offered pulled pork in a sandwich and on top of cheese fries from September through early October, said the offers have been among its most popular in recent years. Wendy's added crunchy coleslaw in its sandwich and provided a choice of spicy, sweet, or smoky sauce.
Even chicken chain Buffalo Wild Wings has on its permanent menu a pulled pork sandwich, which can be tossed with 21 different sauces or seasonings, including mango-habanero or chipotle-barbecue. It's also selling a pulled pork sandwich with a Cuban twist this month and, in November, will top a burger with pulled pork. "I'm not going to say it is as versatile as chicken breast, but it's pretty close," says Mary Chapman, senior director of product innovation at Technomic. "Consumers more and more like to be able to customize."
The meat used to make pulled pork provides plenty of marbling for juiciness, and goes well with a range of flavors, Spillyards-Schaefer says. And unlike a burger, it's a dish many people don't have time to make at home. The pulled pork in Applebee's sandwich is cooked for four hours. Once done, it's fairly easy to prepare for sale: That's key, as fast-food chains try to simplify menus and declutter kitchens. And handling doesn't require much training or new equipment, Chapman says. "It doesn't have to be cooked to order," she says. "It can be assembled to order."
The bottom line: Pulled pork served at food-service establishments logged average growth of 13 percent a year from 2013 to 2015.
Before it's here, it's on the Bloomberg Terminal.
LEARN MORE