France Accuses Russia on Syria Strikes as NATO Adds Pressure
by , , and
Most Russian airstrikes don't hit Islamic State, France Says

Obama says Syria action is sign Putin's leadership slipping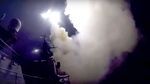 The U.S. hardened its rhetoric against Russia's military action in Syria, warning the intervention will escalate the four-year civil war as NATO allies said most of the airstrikes are not targeting Islamic State extremists.
"The mistakes they're making there will have consequences," U.S. Defense Secretary Ashton Carter said at a joint news conference in London with U.K. Defence Secretary Michael Fallon. Russia "will only inflame the Syrian civil war," he said.
While Russia hailed the success of missiles launched from the Caspian Sea this week, Carter said it has "indications" there were "malfunctions" that caused them to hit Iran. Some 80 percent of Russian missiles are hitting Syrian President Bashar al-Assad's opponents and not Islamic State, whose militants are also expanding in Libya, French Defense Minister Jean-Yves Le Drian said on Europe 1 radio on Friday.
President Vladimir Putin's bombing campaign to support his Syrian ally took the U.S. and NATO by surprise last week and overshadowed a flurry of diplomacy over how to tackle the conflict. As Russia builds up its military presence in Assad's stronghold on the eastern Mediterranean, U.S. President Barack Obama dismissed any notion that his leadership on the world stage was being challenged.
Only Ally
In an interview with "60 Minutes," Obama cast Russia's campaign in Syria as a desperate move prompted by the weakness of Assad.
"Today, rather than being able to count on their support and maintain the base they had in Syria, which they've had for a long time, Mr. Putin now is devoting his own troops, his own military, just to barely hold together by a thread his sole ally," Obama said in an excerpt of his interview released Friday by CBS News.
The North Atlantic Treaty Organization, meanwhile, stood behind Turkey, the alliance's largest military after the U.S., over airspace violations by Russian jets. Russia's actions are unacceptable, while NATO has "a duty to reinforce" its Turkish ally, Secretary General Jens Stoltenberg said after a meeting of defense ministers in Brussels on Thursday.
Russia must "stop interfering" and halt attacks in Syria as well as the violations of Turkey's airspace, Turkey's interim deputy prime minister, Numan Kurtulmas, said in an interview with state-run Anadolu Agency published on Friday. Foreign forces should stop playing "war games" in Syria, where a new exodus of refugees could be triggered, while NATO's solidarity with Turkey is "very important," he said.
Caspian Missiles
Russia, engaged in its first military campaign in the Middle East for at least 30 years, rejected criticism from U.S. officials on Thursday that four of the 26 cruise missiles fired at Syrian rebels from Russian ships in the Caspian had crashed in Iran. Officials and state-run media in Iran supported Russia's version of events.
Shiite-dominated Iran has been backing Assad in the fight against predominantly Sunni groups in Syria's civil war, which started in March 2011 with peaceful protests until government troops turned on demonstrators.
For more, read this QuickTake: Syria's Civil War
Islamic State made its biggest advance in months in Syria's Aleppo after overrunning several areas in the northern governorate, the U.K. based Syrian Observatory for Human Rights said in an e-mailed statement on Friday.
Brigadier General Hussein Hamdani, a commander in Iran's Revolutionary Guards Corps, was killed in northern Aleppo province, where he was advising the Syrian army in the fight against Islamic State, Iran's state-run Fars news agency reported Friday, citing the guards' public relations department.
Opposition Army
In another twist, Russia is still trying to unite the opposition Free Syrian Army with its adversaries in Assad's military to form a coordinated front against Islamic State. Russia is asking Britain for help in contacting the FSA, which may also have a place in the political process, Alexander Yakovenko, the Russian ambassador in London, said in a statement after talks on Thursday with the U.K. Foreign Office.
Obama will shortly announce new U.S. plans to train moderates in the Syrian opposition, Carter said in London, adding it was an important pillar in the fight against Islamic State.
"The work we've done with the Kurds in northern Syria is an example of one effective approach where we have a group that's motivated and effective on the ground," Carter said. "Exactly the kind of example we'd like to pursue."
European Union foreign ministers on Monday will call on Assad to go, while debating his role in the transition, an EU official told reporters on Friday in Brussels. The ministers will urge Russia to set up corridors for the safe transport of food and medicine, and call on the Kremlin to persuade Syrian forces to stop using barrel bombs, the official said.
Before it's here, it's on the Bloomberg Terminal.
LEARN MORE