Dijsselbloem Says Fed Liftoff Delay Increases Difficulty
by and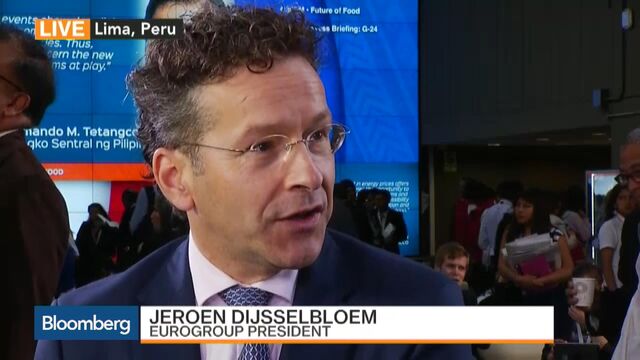 Eurogroup President Jeroen Dijsselbloem said monetary policies in the U.S. and Europe should "normalize" and the Federal Reserve should be clearer on how it communicates its rate moves.
"If everyone is expecting a step, then putting it off sometimes doesn't help, but creates more expectations and makes it even more difficult to take it," Dijsselbloem, who is also Dutch finance minister, said in a Bloomberg Television interview Thursday in Lima. "The question is whether postponing it is helping."

The International Monetary Fund warned officials on Wednesday to protect their financial systems from possible instability as the Fed prepares to raise interest rates, saying shocks or policy missteps risk derailing the global economy and triggering equity market sell-offs.
"I'm very much in favor, as soon as it's possible, as soon as the economy allows it, to normalize what we do in monetary policy," Dijsselbloem said. "The same would go for Europe."
Jose Vinals, director of the IMF's monetary and capital markets department, said in an interview that it's less risky for the Fed to wait a while longer than it would be to move too soon. The Fed is gearing up to increase borrowing costs for the first time in almost a decade with the IMF concerned that high debt levels at banks and other companies in the developing world have left them susceptible to financial stress and capital outflows.
China Action
Indeed, China faces a dilemma as it seeks to trim the world's biggest corporate borrowings while preventing a sharper economic slowdown. The People's Bank of China has cut interest rates and is grappling with the fallout of what Governor Zhou Xiaochuan called a "burst" equities bubble.
"In that process of reforming the Chinese economy, there will be hiccups. The question is, will they be managed right?"  Dijsselbloem said, adding that he thinks the main choices the Chinese government has made in terms of structural reform are the "right choices."
For more, read this QuickTake: The Fed's Countdown
Before it's here, it's on the Bloomberg Terminal.
LEARN MORE