Deutsche Bank Said in Talks to Sell $250 Billion Swaps Book
by and
Transaction to help bank meet goal of shrinking balance sheet

Liquidity in market has declined on stricter bank regulation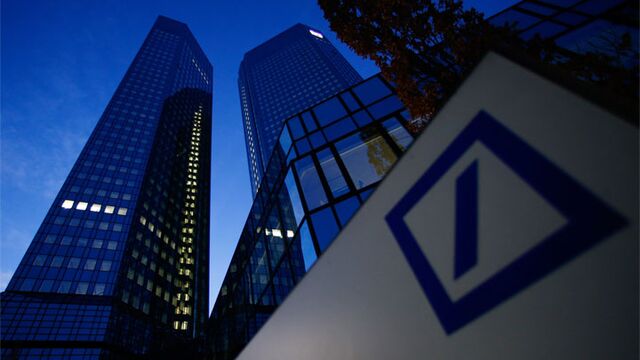 Deutsche Bank AG is selling a credit-default-swaps trading portfolio of more than $250 billion, with JPMorgan Chase & Co. among several banks in talks, according to two people with knowledge of the matter.
The Frankfurt-based bank has said it would exit trading in credit-default swap positions tied to individual issuers after new banking regulations made the business costlier. Instead, the lender plans to focus on transactions in corporate bonds, while maintaining trading in the more active market for credit swaps tied to benchmark indexes.
Deutsche Bank struck a similar deal with Citigroup Inc. to sell a portfolio of nearly $250 billion in single-name swaps, one of the people said. The transactions would help the company meet a target to reduce assets at its securities unit by a gross 200 billion euros ($226 billion) through 2018.
Dealing in credit swaps, which have been blamed for exacerbating the 2008 financial crisis, has become less profitable for lenders as regulators require them to hold more capital to back trades. Deutsche Bank is shrinking assets to lower costs, lift capital levels and raise the stock from its position as the worst-valued among global banks.
"This market isn't very liquid and the risk is that if a company runs into difficulty, you may end up holding all the wrong cards at the end of the game," Alevizos Alevizakos, an analyst at Keefe, Bruyette & Woods who has a market perform recommendation on Deutsche Bank shares, said from London on Friday. "The returns aren't great on these assets either."
JPMorgan, by contrast, doesn't face the same pressure over legal costs and their effect on capital as Deutsche Bank and the U.S. lender may plan to raise prices in the CDS market as competitors pull out, he said.
Deutsche Bank said in January that the decision to exit the business started to contribute to a planned reduction in its balance sheet in the fourth quarter.
Swaps contracts pay buyers the face value of debt if a borrower fails to meet its obligations, less the value of the defaulted obligations.
The discussions were reported earlier by Business Insider.
Before it's here, it's on the Bloomberg Terminal.
LEARN MORE