Canadians go on Shopping Spree for U.S. Power Assets
by and
Buyers bank on growing power demand and favorable regulations

Going where the assets are for sale is a simple strategy
Canada's appetite for U.S. power assets continued a record run of deals Thursday with the $1.51 billion purchase of Pennsylvania power plants by TransCanada Corp. and Brookfield Renewable Energy Partners LP.
Cross border deals this year have totaled $11.7 billion, 48 percent more than last year's record $7.9 billion, according to data compiled by Bloomberg. Companies from the Great White North are attracted by fast-growing power demand in parts of the U.S. and a regulatory model that allows bigger profit for utility monopolies, Rebecca Hazan, a fund manager at Leon Frazer & Associates Inc. in Toronto, said in a phone interview Thursday.
"Canadians are coming to the U.S. because that's where the assets are," Kit Konolige, senior utility analyst for Bloomberg Intelligence, said in a phone interview Thursday. "It's still North America. They're familiar with it."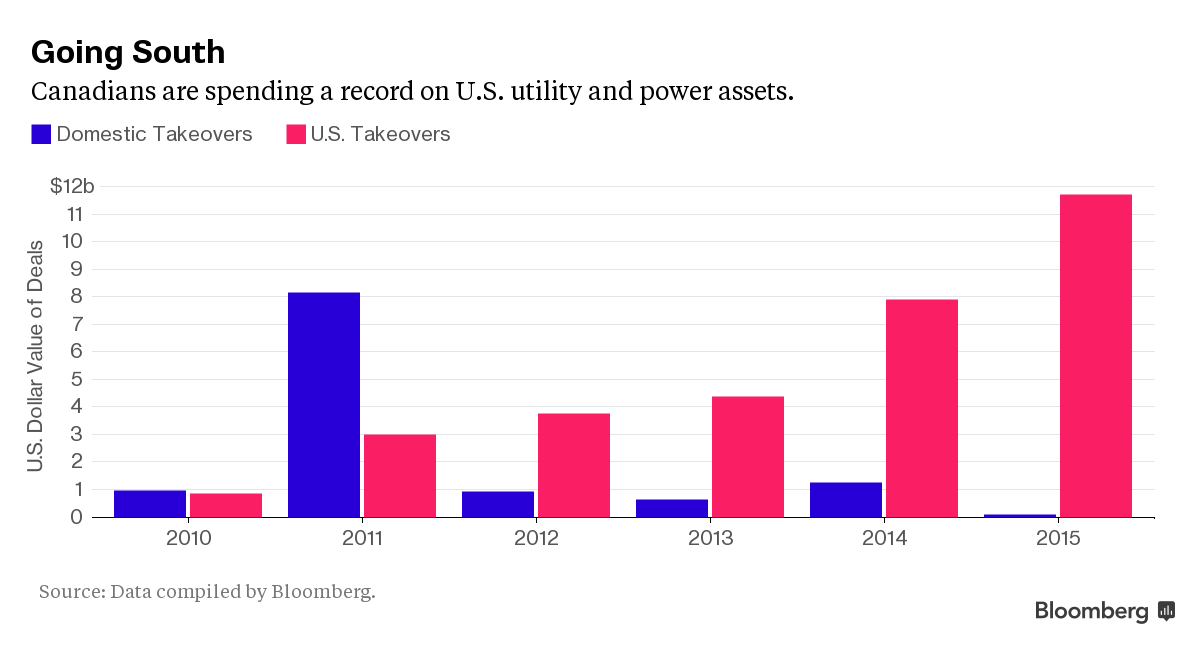 Meanwhile, domestic deals have all but vanished. The biggest was a C$120 million ($92.3 million) equity sale last month by Montreal's Gaz Metro Limited Partnership to its owners, Gaz Metro Inc. and Valener Inc. Around the same time, Halifax-based Emera Inc. offered $6.5 billion in cash for Tampa, Florida-based Teco Energy Inc., owner of electric and natural-gas utilities in Florida and New Mexico.
Canadian energy companies, pension funds and private equity firms are also more willing than U.S. utility owners to bank on the volatile earnings from power plants that sell into U.S. wholesale markets, Konolige said. TransCanada and Brookfield bought so-called merchant plants that had been owned by PPL Corp. before it spun off Talen Energy Corp. in June to focus on more predictable utility businesses.
Calgary-based TransCanada said it will own more than 4,500 megawatts of U.S. generation after the latest purchase closes. Brookfield, based in Gatineau, Quebec, owns hydroelectric dams in the U.S., Canada and Brazil.
Ontario plans to offer a stake to the public in its Hydro One transmission and distribution utility next month. In its prospectus, Hydro One says it will pursue takeovers within the province and beyond, including the U.S.
"You could see that trend continuing," said Jennifer Stevenson, a vice-president and portfolio manager at 1832 Asset Management LP in Calgary. "There's not a lot of independent power assets for sale, or even available, up here."
Before it's here, it's on the Bloomberg Terminal.
LEARN MORE