Brynjolfsson: `This Is a Sad Day' for Both Pimco and Gross
by
Ex-colleague laments emphasis on compensation over clients

Money manager spent almost two decades working for the firm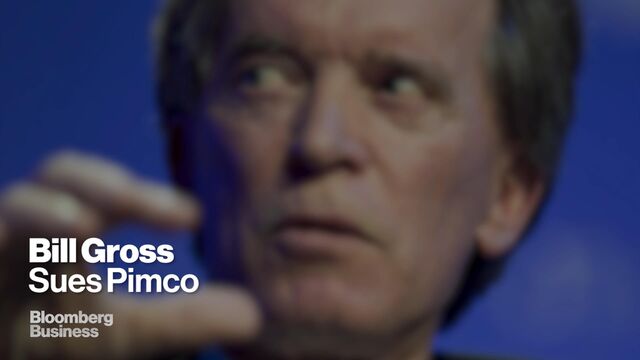 Bill Gross's decision to sue Pacific Investment Management Co. for hundreds of millions of dollars in pay wrongly puts the emphasis on compensation rather than clients, said John Brynjolfsson, a former Pimco veteran.
"For Bill Gross to kind of come back and start to say, well, 'I should have been paid more' or 'I'm going to donate these winnings to charity' kind of puts the emphasis on the wrong thing," Brynjolfsson said in an interview Thursday on Bloomberg Television. "I am in the money management business to serve clients," Brynjolfsson said, adding, "It's not about compensation."
Gross filed suit Thursday against Pimco and its parent Allianz SE, claiming that he was entitled to "hundreds of millions of dollars" after being wrongfully pushed out as the bond manager's chief investment officer in September 2014.
A Pimco spokesman said the case has no merit. Gross, 71, now co-manages the Janus Global Unconstrained Bond Fund for Denver-based Janus Capital Group Inc.
Real Return
Brynjolfsson, 51, dropped out of a doctoral program at the Massachusetts Institute of Technology to join Pimco in 1989. After 19 years at Newport Beach, California-based Pimco, where he started the firm's real return category of funds and built it into a $80 billion business, Brynjolfsson left in 2008 to start Armored Wolf, an Irvine, California-based hedge fund manager.
"This is not the way Bill should have moved forward in the twilight of his career," Brynjolfsson said. "It's a very sad day for the money management industry, it's a sad day for Pimco, and it's a sad day for Bill."
A lawsuit filed today in California state court portrays Gross as an advocate for lower fees and traditional, lower-risk bond investments who was opposed by other Pimco managers seeking to expand into riskier, higher-fee products.
Brynjolfsson said Gross's "baby" has always been "core bond management," noting that Pimco was initially a corporate bond shop that later expanded into futures, mortgages, commodities and equities. He described the tension over what products to offer as being "as old as Pimco itself," adding that the firm's branching into other classes was a natural evolution for a money manager.
'Narrow Core'
"I don't think in the 21st century you can be a global money manager as a narrow core bond manager," Brynjolfsson said.
Brynjolfsson told Bloomberg earlier this week that he was returning Armored Wolf's outside capital and converting the firm into a family office that would manage his personal wealth. The firm's assets have fallen to $250 million from a peak of almost $1 billion amid a bear market for commodities, one of Brynjolfsson's specialties.
"I always wanted to start a firm," Brynjolfsson said in an interview this week. "That was my reason for joining Pimco initially. I was surprised to no end that I spent 19 years there."
Before it's here, it's on the Bloomberg Terminal.
LEARN MORE