BOE's Carney Says FIFA 'Lost Sight' of Duty of Accountability
Svenja O'Donnell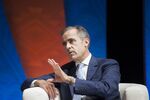 Bank of England Governor Mark Carney says that FIFA, soccer's besieged governing body, "lost sight" of the fact that it should be accountable globally.
FIFA "is a four-letter word," Carney jokingly told a panel in Lima with IMF head Christine Lagarde and Brazilian Finance Minister Joaquim Levy.
"Ultimately it is about accountability to global citizens," he said. "It's a pretty mild criticism to say FIFA lost sight of that."
FIFA's President Joseph "Sepp" Blatter and two men seeking to replace him were suspended by the organization's ethics panel as a widening corruption probe spread across the organization's members.
Before it's here, it's on the Bloomberg Terminal.
LEARN MORE