Blatter, Platini Suspended for 90 Days by FIFA Ethics Panel
by and
Potential replacement Chung Mong-Joon suspended for 6 years

Valcke on 90-day suspension while Swiss investigate Blatter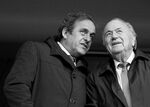 FIFA President Joseph "Sepp" Blatter and two men seeking to replace him were suspended by the organization's ethics panel as a widening corruption probe creates a power vacuum at the very top of soccer's governing body.
Blatter and European soccer chief Michel Platini, the favorite to win a February election to lead the association, were both provisionally suspended for 90 days. Former FIFA Vice President Chung Mong-Joon, who was considering a run, was banned for six years and fined 100,000 Swiss francs ($103,000). FIFA Secretary General Jerome Valcke, already on leave, was also suspended for 90 days.
From the FIFA statement on its Ethics Committee ruling:
The adjudicatory chamber of the Ethics Committee chaired by Hans‑Joachim Eckert has provisionally banned FIFA President Joseph S. Blatter, UEFA President and FIFA Vice-President Michel Platini, and FIFA Secretary General Jérôme Valcke (who has already been put on leave by his employer FIFA) for a duration of 90 days. The duration of the bans may be extended for an additional period not exceeding 45 days. The former FIFA Vice-President Chung Mong-joon has been banned for six years and fined CHF 100,000. During this time, the above individuals are banned from all football activities on a national and international level. The bans come into force immediately.
Hans-Joachim Eckert, the chairman of the ethics committee's adjudicatory arm, accepted a recommendation from chief investigator Cornel Borbely to suspend Blatter and Platini.
The bans, which take effect immediately, prohibit the men "from all football activities on a national and international level," and can be extended by as much as 45 days, the ethics committee said. Platini pledged to contest the decision, saying the allegations are "based on mere semblances and are astonishingly vague."
Enough is Enough

Thomas Bach, the head of the International Olympic Committee, said FIFA should now be open to appointing a president from outside of soccer, something its rules forbid.
"Enough is enough," Bach said in a statement. "FIFA must realize that this is now about more than just a list of candidates. This is also a structural problem and will not be solved simply by the election of a new president."
Blatter was "disappointed" he wasn't given more of an opportunity to be heard before the suspension.
"The ethics committee based its decision on a misunderstanding of the actions of the attorney general in Switzerland, which has opened an investigation but brought no charge against the president," according to a statement by Blatter's lawyers.
FIFA said Blatter, 79, can't represent the organization or communicate with media or other stakeholders in that capacity during his suspension. UEFA's press office was closed and didn't immediately respond to an e-mailed request for comment.
Next Election
FIFA is holding elections on Feb. 26 to select its new leader. Blatter, who faces a criminal probe by Swiss prosecutors, was re-elected in May, but said days later he would resign once a successor was found because of a lack of broad support in the soccer community.
A 90-day suspension robs the Swiss citizen of the ability to claim he left FIFA on his own terms after his 17-year reign at its head. It may also mollify some politicians, sponsors and others who campaigned for his removal.
The Swiss attorney general last month opened a criminal investigation of allegations Blatter was involved in approving an illicit payment to Platini, and that he'd sold World Cup television rights at far below market value. Blatter denies the claims.
In May, U.S. prosecutors obtained an indictment of 14 soccer officials on charges of racketeering and money-laundering, and Swiss officials began criminal proceedings into the awarding of the 2018 and 2022 World Cups to Russia and Qatar.
Platini Defiant
Platini, one of the French national team's top goal scorers before becoming a football administrator, was widely seen as the front-runner to replace Blatter. That changed when he was identified by prosecutors as an alleged recipient of payments in the Swiss criminal proceedings.
Platini denied the allegations Thursday, saying he is soliciting support for his candidacy to be the next president.
"Despite the farcical nature of these events, I refuse to believe that this is a political decision taken in haste in order to taint a lifelong devotee of the game or crush my candidacy for the FIFA presidency," said Platini, who presented FIFA with his official candidacy hours before it confirmed his ban.
"I want everyone to know my state of mind: more than a sense of injustice or a desire for revenge, I am driven by a profound feeling of staunch defiance. I am more determined than ever to defend myself before the relevant judicial bodies."
On Tuesday, Chung acknowledged his pending ban and called the ethics committee "Mr. Blatter's hitman." The panel said it opened a probe in January, and found Chung guilty of violating five FIFA rules, including one involving confidentiality and another focused on disclosure and cooperation.
Chung said the accusations involved a Global Football Fund that Korea proposed as part of its bid to host the World Cup. He said he found "the whole proceeding to be a sham."
New Leaders
Valcke denies any wrongdoing, his attorney said.
"He is confident that when all the facts come out, it will be clear that he did absolutely nothing wrong or improper in carrying out his duties for the good of FIFA and the sport," Barry Berke said in an e-mailed statement.
Blatter's suspension elevates Issa Hayatou, FIFA's senior vice president, to acting president. Markus Kattner, FIFA's finance head and deputy secretary general, has temporarily replaced Valcke. Hayatou said he will only serve as president until the election, and won't seek the job permanently.
Hayatou, 69, a Cameroonian who has been head of the African Football Confederation since 1998, was reprimanded in 2011 by the International Olympic Committee for receiving improper payments from FIFA's then-marketing partner.
"Hayatou is completely the wrong person to be interim in charge of the organization," said Damian Collins, a U.K. member of parliament and co-founder of NewFIFANow, a group pressuring FIFA to undertake bolder reforms.
Before it's here, it's on the Bloomberg Terminal.
LEARN MORE