Billionaire Mansha Says Probe Risks Pakistan Privatizations
by
Investigation of 1991 MCB Bank sale may curb interest: Mansha

To consider bids for electricity distribution companies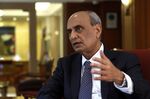 Pakistan's revived probe of MCB Bank Ltd.'s privatization almost a quarter of a century ago risks choking investor interest in the government's asset-sale program, billionaire Mian Muhammad Mansha said.
"Who's going to come to the privatization when you tell them after 25 years" of an investigation, Mansha, the chairman of MCB, said in a phone interview in Lahore Wednesday. "There are a lot of countries, and nobody is going to come here." MCB is the country's second-largest bank by market value.
The Pakistani government aims to raise about $2 billion from asset sales in the fiscal year ending June 30, 2016 to help contain its budget deficit and meet the conditions of an International Monetary Fund loan program. Legal and political hurdles have slowed efforts to sell entities including Pakistan International Airlines Corp. and several electricity distribution companies.
Mansha said his Nishat Group may bid for the distribution companies in Faisalabad and Lahore, but if the MCB investigation still "is on our heads, then we will definitely not look."
The disposal of the Faisalabad Electricity Supply Co. is one of the centerpieces of the privatization program. Mansha, 68, was born in the city.
Mansha said that on Tuesday he complied with a request to meet investigators from the National Accountability Bureau, the country's main anti-graft agency, regarding the privatization of MCB in 1991.
He "had tea" and met with "lots of people there who are my friends," Mansha said. "They were very happy they met me. Some took pictures. Some shook my hand."
Mansha said he told the investigators the the MCB probe is a sub judice matter and shouldn't be progressed until there are further court orders. He also said that the nation's Privatization Act doesn't allow probes of transactions that are more than two years old.
MCB Bank shares climbed 1.2 percent to 228.93 rupees in Karachi Thursday. They have declined 25 percent this year, compared with the 4.2 percent advance in the KSE100 Index.
The Accountability Bureau revived the MCB investigation after Pakistan's Supreme Court in July said it needed to expedite inquiries into 50 long-pending cases of alleged corruption.
Mansha said the nation's textile industry would be more internationally competitive with government subsidies. He also said he realized the government's budget deficit means it's not in a position to offer them. Mansha's Nishat Mills Ltd. is the Pakistan's largest textile exporter.
Before it's here, it's on the Bloomberg Terminal.
LEARN MORE