Belarus's `Invisible' Vote Sets Stage for Putin's Duel With EU
by
Incumbent seeks fifth presidential term amid economic crisis

Russia, EU, U.S. vie for influence in former Soviet republic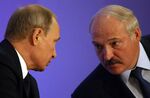 For an election deemed unnoticeable by international observers, there will be plenty of global attention when Belarus votes for president on Sunday.
Incumbent Alexander Lukashenko, 61, is seeking his fifth term against a fractured and weakened opposition, with the country besieged by economic turmoil and an 18-month conflict in neighboring Ukraine. After a campaign international observers called "largely invisible," a government-sanctioned poll showed Lukashenko's support at more than 76 percent. The Independent Institute of Socio-Economic and Political Studies in Lithuania found his backing near 46 percent, short of the 50 percent needed to avoid a runoff.
Belarus, wedged between Russia and Poland, is at risk of becoming another geopolitical battleground as the Kremlin wrangles with its former Cold War rivals from Ukraine to Syria. Lukashenko, Europe's longest-serving leader who's been in power since 1994, campaigned with the goal of "normalizing" ties with the U.S. and Europe and pushed back against plans by President Vladimir Putin -- his closest ally -- to set up a military air base in Belarus.
"While toppling Lukashenko would be very difficult for Russia, especially without a plausible alternative candidate waiting in the wings, a rapprochement with Brussels may tip the balance in favor of those advocating regime change in Minsk," said Daragh McDowell, principal analyst covering Russia and the former Soviet Union at Verisk Maplecroft, a Bath, U.K.-based global risk adviser. "'Losing' Belarus so soon after Ukraine would deal a crippling blow to Russia's geopolitical ambitions in Europe."
Tractors, Potash
Belarus, a nation of 9.5 million that borders three European Union nations and whose main exports include potash, tractors and refined oil products, is reeling from the crisis in neighboring Russia, its biggest trade partner. Lukashenko has sought to take the focus off the $76 billion economy, warning in his election program that "not everyone is happy with our independence."
Demand for Belarusian assets is returning after the rout that swept emerging markets in August. Its national currency is this year's second-worst performer globally after Zambia's kwacha. The ruble has strengthened more than 2 percent against the dollar this week. The yield on dollar-denominated government debt due 2018 has dropped in four of the past five days. It was at 8.44 percent on Thursday, down from August's high of 10.57 percent, according to data compiled by Bloomberg.
Charm Offensive
Lukashenko has had to walk a fine line as a separatist insurgency in Ukraine and sanctions against Putin's government roiled the region. Belarus, which like Russia is a member of the Eurasian Economic Union, is attempting to hedge its bets as it looks to rev up an economy that the International Monetary Fund predicts will contract the most of any ex-Soviet state in 2016.
Diplomatic relations with the U.S. and its allies have intensified this year, highlighted by the Ukraine peace conference in Minsk attended by German Chancellor Angela Merkel in February. French President Francois Hollande also attended the truce talks, along with Putin and Ukrainian leader Petro Poroshenko. Lukashenko also had meetings with leaders including the EU's enlargement chief, several U.S. congressmen and United Nations Secretary-General Ban Ki-Moon.
In an April interview, Lukashenko warned that Belarus wouldn't become Russia's "northwestern province" and even needled Putin.
"I'm not Europe's last dictator anymore," he said in the new, stadium-sized, mostly empty marble-and-glass Independence Palace, the venue for the Ukraine talks. "There are dictators a bit worse than me, no? I'm the lesser evil already."
'Difficult Position'
As Belarus seeks a $3 billion credit from the Russian-led Eurasian Fund for Stabilization and Development, Lukashenko said he'd already secured $7 billion in loans from China and met with IMF chief Christine Lagarde last month to discuss a possible new program.
Belarus, which has struggled to remove travel bans and asset freezes imposed against some companies and top officials by the EU and the U.S., has tried to improve relations by releasing all political prisoners earlier this year.
"Lukashenko is in a difficult position," Svetlana Alexievich, a Belarusian writer who won the Nobel Prize in Literature on Thursday, said at a briefing in Minsk after the announcement. "He'd like to break away from Russia, but who will let him?"
The question remains if the presidential vote could add momentum to those efforts. The U.S. rejected as illegitimate Lukashenko's re-election in 2010, joining European criticism of a crackdown on activists and other presidential candidates. Belarus has one of the worst "democracy scores" among 29 eastern European and central Asian nations tracked by Freedom House, a Washington-based group that advocates democracy and human rights.
Lukashenko's Challengers
The electorate remains sanguine. More than 71 percent of Belarusians say they aren't ready to take part in public protests, according to the survey by the Independent Institute of Socio-Economic and Political Studies.
Challenging Lukashenko for the top post are three candidates, including Sergei Gaidukevich, who's unsuccessfully stood in earlier presidential elections, as well as a political newcomer Tatiana Korotkevich, the first woman ever to run for the post.
Some of the shortcomings that marked previous elections still plague Belarus, according to the Organization for Security and Cooperation in Europe.
"Disproportionate legal restrictions of fundamental freedoms impact on the campaign environment," observers from the OSCE said in a report. "The rights of citizens or public associations wishing to address electoral issues in public meetings remain restricted."
Before it's here, it's on the Bloomberg Terminal.
LEARN MORE