Audi Sales Rose During September Even as Diesel Scandal Spread
by
Global sales rose 6.8 percent on deliveries of upgraded Q7 SUV

China deliveries trim decline since the start of the year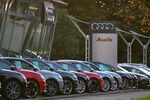 Audi, Volkswagen AG's luxury-car unit, boosted global sales in September at the strongest rate since the start of the year even amid the diesel emissions-rigging scandal that's affected the brand's A3 hatchback and Q5 sport utility vehicle.
Deliveries last month gained 6.8 percent to 170,900 cars, lifted by demand for the revamped Q7 SUV, the Ingolstadt, Germany-based unit said Thursday in a statement. Sales since the start of 2015 increased 3.8 percent to 1.35 million vehicles. Rival Mercedes-Benz reported a 17 percent jump in sales last month to 198,694 cars. BMW AG, the world's biggest maker of luxury vehicles, is due to report deliveries on Oct. 12.
"In light of difficult market conditions during the third quarter in key sales regions, our performance was positive," said Luca de Meo, Audi's head of sales, who was appointed to take charge at VW's Seat brand. Audi will introduce 15 new or revamped models by the middle of next year, providing a boost to sales, de Meo said.
In China, Audi's biggest market, sales in September rose 2.9 percent, trimming the decline this year to 0.3 percent. In the U.S., where the diesel scandal was uncovered, last month's deliveries rose 16 percent.
While Audi continued to record sales growth, its parent company has been rattled by revelations of cheating on diesel emissions tests in a scandal affecting nearly 11 million vehicles globally. Volkswagen admitted to installing software designed to fool U.S. pollution testers since 2009 and now faces costs and lost revenue from its damaged image of more than 35 billion euros ($39.6 billion), Warburg Research estimates.
Before it's here, it's on the Bloomberg Terminal.
LEARN MORE