technology
VW Faces Long Road to Recovery as Diesel Fixes to Take a Year
By
Carmaker's repair plan in the hands of German regulator

Volkswagen has provided `minimal information,' lawyer says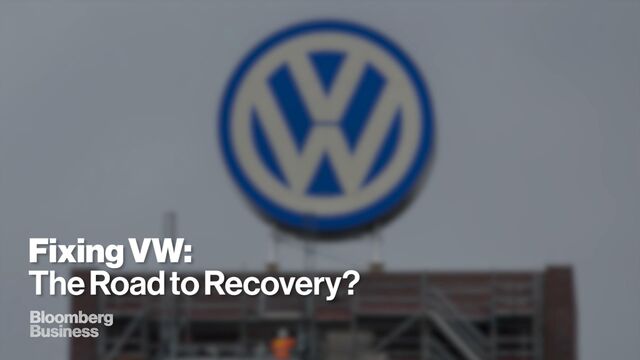 Volkswagen AG's efforts to fix diesel cars with rigged emissions systems are set to drag on through at least the end of 2016, signaling the long road ahead for the automaker to emerge from the scandal.
VW said it has presented proposals to German authorities in the first stage of a global recall but cautioned that the mix of technology and differences in local regulations will complicate the task of fixing the cars. That uncertainty leaves owners of nearly 11 million cars worldwide largely in the dark about the extent of the repairs needed and how their vehicles will perform afterward.
After installing software designed to fool U.S. pollution testers since 2009 and covering it up for almost a year, Volkswagen faces costs and lost revenue from its damaged image of more than 35 billion euros ($39 billion), Warburg Research estimates. To cushion the blow, VW is delaying or canceling non-essential projects after determining that the 6.5 billion euros set aside so far won't be enough.
VW has repeatedly said thoroughness is more important than speed in determining how to fix the vehicles. The Wolfsburg, Germany-based company has also pleaded for patience, as the issue affects four brands and multiple models around the world, including some 8 million cars in the European Union and 482,000 in the U.S.
Thousands of Solutions
"We're facing not just three solutions but thousands" of repair options because of each vehicle's mix of technology and national regulatory differences, Chief Executive Officer Matthias Mueller told Frankfurter Allgemeine Zeitung in an interview.
Volkswagen informed German authorities about its plans this week, he said, adding that the recalls will start in January and last through 2016 if authorities approve the response. German Transport Ministry spokesman Sebastian Rudolph said VW's response "hasn't arrived yet, but we expect it today." Once it's received, authorities will review the solutions.
Most cars probably only need software reprogramming that can be done at a local service outlet, though some will need new injector systems or some rebuilding at special workshops to install larger catalytic converters, the CEO said. Replacing cars will be considered in "particular cases," he said.
"The way in which this is being handled by Volkswagen is staggering," Bozena Michalowska-Howells, a partner at U.K. law firm Leigh Day, which is representing more than 1,200 Volkswagen car owners, said in an e-mailed statement. "Rather than responding to very serious concerns from their customers, they are providing the minimal information."
Hands Full
Volkswagen jumped as much as 11 percent to 107.85 euros and was trading up 8.3 percent as of 4:11 p.m. in Frankfurt. That pared the decline since the scandal came to light on Sept. 18 to 35 percent.
In addition to investigations by federal and state regulators in the U.S., Volkswagen is the target of about 230 lawsuits filed as federal class action cases by car owners, with authorities in West Virginia and Harris County in Texas also suing the manufacturer. Outside the U.S., the carmaker faces potential criminal complaints in France, Spain and the German state of Lower Saxony, while Taiwan's environmental protection agency said Tuesday that it will ask prosecutors to investigate the case.
CEO Mueller, a four-decade VW veteran, has made limited public appearances since succeeding Martin Winterkorn in the wake of the scandal. He told Frankfurter Allgemeine Zeitung that he's ready to travel to the U.S., though his "hands are full" dealing with the fallout in Germany. 
In the U.S., where VW's deliberate effort to dupe customers and regulators was uncovered, the Energy and Commerce Committee of the U.S. Congress will hold a hearing on Thursday to seek details on how and why Volkswagen arranged the scheme. U.S. chief Michael Horn is set to appear on the company's behalf.
Helping to lead the recovery from Germany is Hans Dieter Poetsch. Volkswagen's supervisory board on Wednesday elected VW's former chief financial officer as chairman. Poetsch, 64, a close confidante of Winterkorn, said he will do his "utmost to uncover the full truth of what happened." He didn't say how long that might take.

— With assistance by Arne Delfs
(Updates with new chairman in final paragraph.)
Before it's here, it's on the Bloomberg Terminal.
LEARN MORE