VW's Cheating Gains Will Be a Factor in U.S. Penalties
by and
EPA statement to House committee says gains will be calculated

VW's U.S. chief to answer lawmakers' questions on Thursday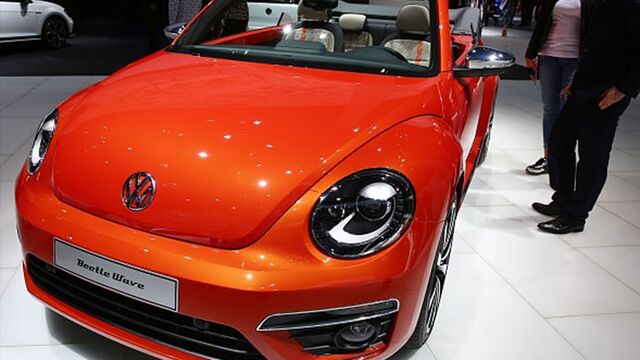 Just how much money Volkswagen AG made by cheating on U.S. emissions tests will help determine the penalties it pays, according to the Environmental Protection Agency.
The agency intends "to assess the economic benefit to VW of noncompliance and pursue appropriate penalties," Christopher Grundler, director of EPA's Office of Air and Radiation, and Phillip Brooks, director of civil enforcement for air, said in a written statement Wednesday to the House Energy and Commerce Committee. The Oversight and Investigations subcommittee is holding a hearing Thursday.
Volkswagen's U.S. chief, Michael Horn, acknowledged in written testimony that he learned in early 2014 the company might not be following emissions regulations on its diesels, a cornerstone of VW's U.S. expansion plan. The topic came up again later that year, Horn said, when he was told VW's technical teams had a plan for fixing the cars involved. The company didn't admit its cheating until a Sept. 3 meeting with the EPA and the California Air Resources Board.
"Remedies should match the wrongdoing," said Erik Gordon, a professor with the Ross School of Business at the University of Michigan. When U.S. regulators lacked statutory authority to impose higher fines on carmakers, including General Motors Co. over flawed ignition switches, "the small fines frustrated the public and Congress," he said.
Under the Clean Air Act, Volkswagen may be liable for fines as high as $18 billion. It has already set aside more than 6.5 billion euros ($7.3 billion) for charges related to the anticipated recalls. The Wolfsburg, Germany-based automaker will ultimately face costs and lost revenue from its damaged image of more than 35 billion euros, according to an estimate by Warburg Research.
Pollution Harm
The EPA is also expected to look at how much harm the excess pollution from Volkswagen's violations caused, and the best ways to mitigate that damage, Grundler and Brooks said.
"These events are deeply troubling," Horn said in his statement. "I did not think that something like this was possible at the Volkswagen Group. We have broken the trust of our customers, dealerships, and employees, as well as the public and regulators."
Responsible parties will be identified and held accountable, and Volkswagen will rebuild its reputation, he said. Technical teams are still working to identify solutions for consumers, he said. Volkswagen on Wednesday said there will be multiple solutions for different engines and different countries, and that the work would continue at least through the end of 2016.
Consumer Loss
The Thursday hearing will explore the damage done to consumers, whose resale values have plummeted, as well as dealers, who are paying interest to hold vehicles they can't sell, said Representative Michael Burgess, a Texas Republican who sits on the House Oversight and Investigations Subcommittee.
"The rules are set, and they're set for a reason," Burgess said. "If you have an outlier in the marketplace, it's harmful at a lot of different levels."
VW received at least $2 billion in economic benefits from selling diesel vehicles in the U.S. that cheated emissions tests, said attorney Blair Nicholas, who filed a consumer lawsuit in Los Angeles last month against the company. That includes charging premiums of as much as $7,000 per vehicle for diesel engines. The U.S. government subsidized the purchases with tax credits, he said.
''VW profited from enticing consumers to purchase cars based on the expectation that tax credits would partially subsidize the purchase," Nicholas said in an e-mail. The company should disgorge profits "not just on the diesel sales but sales increases for other models based on VW's falsely configured 'green' reputation."
(An earlier version of this story corrected the professor's name in the fourth paragraph.)
Before it's here, it's on the Bloomberg Terminal.
LEARN MORE