Vice Said Seeking to Buy U.S. Cable Network by Year-End
by
Talks with potential targets said to have narrowed to two

Company has stockpiled shows in hopes of finding TV home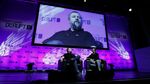 Vice Media Inc. is in talks to take over a U.S. cable network and has narrowed the potential targets to two, with a goal of reaching a deal by year-end, according to a person familiar with the matter.
The company, which amassed a large online following with news coverage ranging from Islamic extremism to dance music, has spent months creating new series as it prepares for a bigger push in TV. Rather than sell the shows to other networks, as it has with HBO, Vice would rather air them on its own channel, said the person, who asked not to be named because the discussions are private. The cost of buying a network and the risk of getting dropped by pay-TV providers remain obstacles to a deal, the person said.
Vice has been looking to start or acquire a cable network for more than a year. The company raised $500 million from Technology Crossover Ventures and A+E Networks in September 2014. Chief Executive Officer Shane Smith said last year that Vice planned to create a channel. In April, the New York Post reported the company would take over H2, a channel owned by A+E.
There is nothing to announce, A+E CEO Nancy Dubuc said Monday at a media conference in Beverly Hills, California. She praised Vice for having a very strong brand and distinct voice, speaking at the event hosted by TheWrap.com.
"We're looking for strategic ways to partner with them," Dubuc said. A+E is jointly owned by Walt Disney Co. and Hearst Corp.
A Vice spokesman declined to comment.
Vice's interest in cable highlights an irony about online video: even the biggest Web companies aspire to reach cable. TV networks offer new viewers and augmented sales. Advertisers pay more to reach the older audiences watching live TV than they do for videos on YouTube, Facebook or Vice's own websites.
Building its brand is another reason closely held Vice, which is based in New York, is less interested in selling shows than owning a TV home -- in the U.S. and internationally. The company has announced plans to establish a TV channel in Canada with Rogers Communications Inc., and recently opened a new office in Toronto.
Vice produces 100 hours of video a month, programming executive Danny Gabai said at a film festival in Vancouver last week. While most goes online, some of the best shows are targeted for TV, he said.
"A lot of the higher-end stuff we're doing now, especially after the latest HBO deal and big deals we've done with A+E, that stuff is intended to live on TV first," Gabai said. "We want to be on TV and really embrace TV."
Before it's here, it's on the Bloomberg Terminal.
LEARN MORE