Trump Says Bush and Rubio Suffer From Political Politeness
Republicans' celebrity front-runner draws 1,000 people to an afternoon rally in Waterloo, Iowa.
By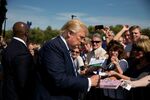 Republican presidential front-runner Donald Trump, during a campaign stop in Iowa, took aim at two of his party's nomination rivals, saying that Jeb Bush and Marco Rubio represent one of the things that's wrong with American politics. The problem, according to Trump: They're too nice to each other.