Tesco Debt Looms Large as Grocer Abandons Dunnhumby Sale
by
Tesco to use cash from operations to reduce debt burden

CEO Lewis refuses to rule out possibility of rights issue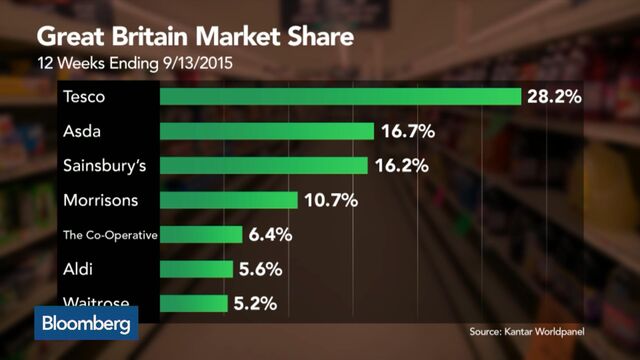 Tesco Plc, the troubled British grocery leader, abandoned the sale of its data analytics unit Dunnhumby, raising concern that the company will need to resort to a capital increase to reduce its 21.9 billion-pound ($33 billion) pile of debt.
In February, people familiar with the matter told Bloomberg News that potential buyers of the business were pressuring Tesco to lower its 2 billion-pound asking price. Dunnhumby provides data on the buying habits of 700 million shoppers worldwide.
The decision not to sell Dunnhumby closes off another avenue for Tesco in its effort to cut its debt load. Tesco's credit is still rated junk by the major rating agencies, and even after the 4 billion pound proceeds from the disposal of a South Korean business have been accounted for, any potential rating upgrade will be contingent on an improvement in U.K. trading.
"Tesco will need to raise capital, and potentially a considerable amount, in order to progress without looking over its 'balance sheet shoulder,' " Clive Black, an analyst with Shore Capital, said in a note to investors.

When asked about a possible rights issue, Chief Executive Officer Dave Lewis said "never say never."
"I won't sell assets below what I think they're worth," he said on a call with reporters. "We think there is an awful lot more that we can do to generate cash from our core operations."
'Recovering Poise'
Performance among the U.K.'s four largest grocers is beginning to diverge. Tesco's same-store sales in the U.K. and Ireland fell 1 percent, excluding fuel, in the second quarter, the company said Wednesday. In its most recent quarter, J Sainsbury Plc posted a 1.1 percent decline, whereas Wm Morrison Supermarkets Plc and Wal-Mart Stores Inc's Asda are struggling, with recent same-store sales declines of 2.4 percent and 4.7 percent respectively.
After cutting prices on more than 500 product lines this year, Tesco sold 1.4 percent more groceries in the period versus a year ago.
"There remains a long road to travel," John Kershaw, an analyst with Exane BNP Paribas, said in a note to clients, "but strong volume and transaction growth point to a brand recovering its poise."
In the six months to August 29, adjusted operating profit in the U.K. and Ireland fell 69 percent to 166 million pounds . Tesco said the market remains ''challenging."
Tesco shares rose 1.6 percent to 195.2 pence as of 10:33 a.m. in London, after dropping as much as 3.8 percent in early trading.
Lewis reiterated that he aspires to repeat last year's so-called trading profit of 1.4 billion pounds this year. Still, U.K. profitability will be constrained by the government's new minimum wage requirement that may cost Tesco a total of 500 million pounds.
Before it's here, it's on the Bloomberg Terminal.
LEARN MORE