Swedish Riksbank Calls Krona Strength a `Worrisome' Development
by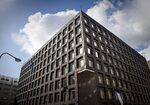 The recent appreciation in Sweden's krona is "worrisome" and is becoming a concern for monetary policy, Riksbank Deputy Governor Martin Floden said on Wednesday.
The currency's latest gains aren't linked to positive news on inflation and are more likely to be triggered by developments outside Sweden, Floden said in response to questions.
"The krona has appreciated again recently" and "I don't see any connection really to any news on Swedish inflation recently," he said. "Given that the krona strengthens for other reasons, I think it's a worrisome development, it's a concern for us at the Riksbank."
Since the middle of May, Sweden's krona has jumped about 12 percent against the krone of neighboring Norway, Scandinavia's richest economy. Over the past six months, it is the top performer of the 10 currencies tracked in the Bloomberg correlation weighted index, having strengthened about 7 percent in the period.
"There's continued upside potential for the krona and that will be very difficult for the Riksbank to fend off," Carl Hammer, chief FX analyst at SEB in Stockholm, said by phone.

The Riksbank cut its key rate to minus 0.35 percent in July as it struggles to keep up with monetary stimulus efforts outside its borders. Sweden's quantitative easing program has been dwarfed by the European Central Bank's, which has weakened the euro and added to the appeal of currencies outside its sphere.
The prospect of a delay in the U.S. Federal Reserve's first rate increase is also putting pressure on global currency markets. Meanwhile, Norway's krone has been driven lower by plunging oil prices, again leaving Sweden's currency stronger in relative terms.
"Generally, I think there have been some negative surprises for the world economy, and in particular with the Fed's recent decision and anticipation of monetary policy in other countries," Floden said. "Broadly speaking, I think that's an important contributing factor."
A strong currency has hampered the Riksbank's efforts to revive inflation and bring price growth closer to its 2 percent target. Sweden suffered a prolonged bout of deflation during much of last year and underlying inflation hasn't met the Riksbank's target since the end of 2010.
"If the krona strengthens without other pieces of information that lead to the inflation pressure being revised upwards, that will place a downward pressure on our inflation forecast, obviously," Floden said.
Should the Riksbank need to "take further action," rate cuts and more bond purchases would be its preferred tools, Floden said. So far, those purchases remain limited to government bonds. Covered bonds are "not high up on the list," he said. Any additional rate reductions would be delivered in "small steps," as the Riksbank approaches its floor, he said.
Before it's here, it's on the Bloomberg Terminal.
LEARN MORE