Rotation Well Timed for Funds Selling Biotech to Buy Energy
by and
Investors drive up energy buying more than any other sector

Biotech in bear market as energy rallies 9 percent this month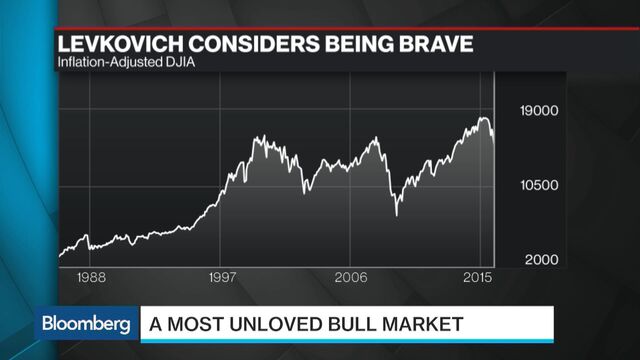 Investors are trading one of the bull market's biggest winners for its biggest laggards.
They're selling health-care stocks and buying energy faster than any other industries, according to research from FBN Securities. Data on the rotation came as a month-old bear market in biotechnology stocks worsened yesterday and energy shares -- downtrodden throughout 2014 amid plunging oil prices -- capped the biggest rally since 2008.

Tastes are shifting rapidly in the stock market as fund managers look for ways to salvage a year that at one point in 2015 had been going as well as any since 2009. The proportion of actively managed funds beating the Standard & Poor's 500 Index went from 59 percent at the end of the first quarter to 47 percent in the third.
"People are stepping back trying to look at the big picture with energy, thinking there are tons of opportunities, and the flip side is happening with health-care," Stan Altshuller, chief research officer at Novus Partners Inc. in New York, said by phone. "Health-care was a savior for active managers in an otherwise dismal 2014 and you had a lot of tourists that jumped in and are getting burned on the way out."
The Nasdaq Biotechnology Index, which soared past the Standard & Poor's 500 Index throughout the bull market with a 420 percent rally by the end of 2014, fell as much as 6.6 percent Tuesday as earnings warnings from companies that sell technology to drug firms and concern about pharmaceutical pricing reignited selling that began three weeks ago.
Biotech stocks slid 0.6 percent as of 9:42 a.m. in New York, while energy shares climbed 2 percent and the S&P 500 added 0.6 percent.
Prospects for earnings growth in the larger health-care sector, one of just four S&P 500 groups that analysts expected to expand profit in the third quarter, took a hit Tuesday as Greatbatch Inc., a Frisco, Texas-based maker of electronic equipment for medical devices, and Illumina Inc. in San Diego, a maker of gene analysis systems, lowered sales forecasts.
Greatbatch sales this year will be between $685 million and $695 million, the company reported, compared with earlier estimates of as much as $730 million. Revenue at Illumina, the biggest maker of DNA decoders, will be about $570 million in the fourth quarter, compared with the average forecast of $603.2 million, according to estimates compiled by Bloomberg.
Almost 130 companies in the 143-member biotech index fell, with Illumina and Greatbatch each losing 11 percent. Exact Sciences Corp. plunged 46 percent after a U.S. panel of medical experts questioned the benefits of a colon cancer test.
Biotech entered a bear market last month after Democratic presidential hopeful Hillary Clinton suggested in a tweet there may be "price gouging" in the market for prescription pills. The slump has presented a difficult test for one of the year's best-performing industries, which recovered from five pullbacks of more than 6.6 percent over a 14-month period ending in August.
"Health-care was pretty strongly owned by a lot of folks," said Sarah Hunt, associate portfolio manager at New York-based Alpine Mutual Funds, which oversees $5 billion. "Right now, sentiment is saying, here is a place where all of a sudden we're starting to get some political scrutiny. Is that the best place to be after this whole group has been dominating?"
Health-care shares jumped 12 percent this year through the end of July, the best showing among 10 groups in the S&P 500 and beating a 2.2 percent advance for the overall index. Energy shares, meanwhile, had the worst performance, slumping 13 percent.
While the Nasdaq biotech index began the year trading at a valuation of more than 280 times earnings, energy shares traded at 14.3 times. That figure has climbed to 17.4 times amid advances in oil and gas companies such as Tesoro Corp. and Newfield Exploration Co., which have rallied at least 36 percent this year.
An exchange-traded fund tracking the oil and gas sector added 23 percent over the past six days, the biggest rally since 2008 for a period of that length. The fund has climbed at least five percent in the past three trading sessions.
"There's certainly been a shift in sentiment in biotech," said James Gaul, a portfolio manager at Boston Advisors LLC, which oversees $2.8 billion. "It could simply be a rotation. They covered their shorts, now they're putting them back on and looking into a value area because obviously energy is very cheap right now."
Before it's here, it's on the Bloomberg Terminal.
LEARN MORE