Putin's Troop Buildup in Syria Aggravates Western Concerns
by
Action compounds `troubling' air strikes, U.S. NATO envoy says

NATO defense ministers meet Thursday amid escalating tensions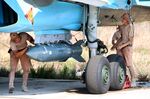 Russia's buildup of ground forces in Syria is aggravating concerns Western leaders already have about Russian President Vladimir Putin's intentions in the region, the U.S. envoy to NATO said.
Russia has amassed hundreds of ground troops over the past few days around its Mediterranean air and naval bases at Latakia and Tartus in Syria, compounding the questions the western alliance is asking about the Kremlin's air campaign, NATO ambassador Douglas Lute told reporters on Wednesday in Brussels.
"There's artillery, there's long-range rocket capability, there's air-defense capability and so forth, which goes a bit beyond what you'd expect by way of ground forces," Lute said at the North Atlantic Treaty Organization's headquarters. "The recent reinforcements of the last week or so do feature a battalion-sized ground force."
Russia started its campaign of air strikes targeting forces opposed to Syrian President Bashar al-Assad last week in its first operation outside the former Soviet Union in three decades. NATO Secretary-General Jens Stoltenberg has called on Russia to avoid coming into conflict with the U.S.-led coalition bombing Islamic State targets in Syria.
Russian air activity, and its violation of Turkish airspace on Oct. 3, is "especially troubling," Lute said. The buildup of ground troops to the size of a battalion -- suggesting a force of several hundred -- has brought with it the Kremlin's most-modern tanks, he said. In addition, more than 10 Russian ships are in the eastern Mediterranean.
Defense ministers from NATO countries will consider their response to the Russian action in the region when they meet in Brussels on Thursday.
Before it's here, it's on the Bloomberg Terminal.
LEARN MORE