PREVIEW: ECB Minutes to Focus on Any Hints of More QE, Deposit Rate Cut
by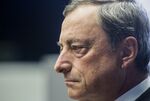 The ECB's account of its September meeting will be scrutinized by investors for hints of further easing measures from the central bank by year-end. An extension of QE beyond September 2016 looks to be the most likely option, though any discussion on potential cut of deposit rate will be closely watched, strategists say.
Barclays
Focus will be on potential options discussed to ease policy further.
Although Draghi said that a rate cut hadn't been discussed, market will scrutinize any statement regarding the lower bound for interest rates.
A cut in deposit rate would be one powerful option to re-anchor CPI expectation through its impact on the front-end of yield curve and euro weakening.
Barclays expects further ECB easing to be announced as early as at Oct. meeting via a time extension to QE program.
BNP Paribas
ECB account unlikely to reveal any detailed discussion of potential policy responses as it may have been too early given that Sept. meeting took place shortly after Aug. market gyrations.
That said, it should be clear that ECB is ready to take action if needed.
Expect ECB account to reveal a relatively high degree of sensitivity to downside risks among the most influential members of executive board who will be concerned about persistence of low CPI and potential impact on CPI expectations.
Citigroup
Will be useful to compare ECB's account with recent commentary from executive board members like Coeure and Praet.
GDP growth is returning to euro area and it's premature to think the Governing Council will be in a position to announce additional policy support in coming weeks.
Citigroup still expects an extension of QE program to be announced in Dec.; Oct. meeting will probably be used to discuss alternative policy options that could become necessary.
Deutsche Bank
DB changes its QE call on Oct. 2, saying that further QE is no longer just a risk; expects a 6-month flexible extension of QE to be announced in Dec.
QE extension is more likely than a deposit rate cut as to be effective, the latter would need to be designed to boost SME lending; otherwise it might not compensate for policy U-turn.
Don't expect any discussion on deposit rate cut in ECB account, DB economist Marco Stringa says in separate e-mailed comments, adding that a time extension of QE could have been discussed at least implicitly.
HSBC
ECB account will probably reveal a lively discussion on renewed deflationary pressures and policy options; forecasts revision were substantial, especially on 2016 inflation, and didn't even reflect the full extent of fall in oil prices and euro appreciation in Aug.
May have been some discussion about policy options for a possible QE expansion; discussion will probably be at broad level.
Further cut of marginal deposit rate deeper into negative territory is unlikely because it contrasts with a policy of balance sheet expansion, raising the cost for banks in selling their bonds.
UBS
Base case remains for ECB to run QE in its current form of €60 billion until Sept. 2016, followed by some form of tapering.
Hurdle toward an increase in QE in short term still reasonably high.
Another cut to deposit rate is unlikely as ECB has signaled that deposit rates have bottomed; cut could have negative consequences for ECB's credibility.
It would be mainly a tool to weaken euro but it shouldn't be seen as a significant easing step and not a substitute for bigger or longer QE.
Before it's here, it's on the Bloomberg Terminal.
LEARN MORE