No Fed Shame in Waiting Longer for Liftoff Is IMF Advice in Lima
by
Vinals disagrees with `just-do-it' rate-rise strategy for Fed

Larry Summers rails against preemptive `war' on inflation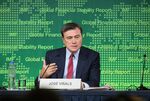 There's no shame in waiting.
That's the message for U.S. Federal Reserve officials contemplating an interest-rate increase this year as the world's finance chiefs and central bankers gather in Lima to discuss a sluggish global economy.
With scant signs of domestic inflation, the Fed has scope to delay a while longer, a top IMF official said Wednesday as the Washington-based fund prepared to hold its annual meetings in Lima. Jose Vinals, director of the International Monetary Fund's monetary and capital markets department, said waiting is less risky than premature Fed liftoff.
"I don't agree with the just-do-it strategy for the Fed," Vinals said in a Bloomberg Television interview Wednesday. "Our recommendation is for the Fed to wait until there are tangible signs that inflation is really rising toward the objective."
The timing of the Fed's first rate increase since 2006 will be among the issues discussed as Group of 20 finance ministers and central-bank governors meet for a working dinner Thursday, with a press conference the following morning. Emerging markets will face "substantial challenges" adjusting to higher U.S. rates, as companies that borrowed in dollars struggle to pay their debts, the IMF warned Wednesday.
Slower Recovery
A projected fifth straight year of slowing growth in emerging markets forced the IMF this week to cut its outlook for the global expansion this year to 3.1 percent from 3.3 percent estimated in July. Six years after the world emerged from a financial crisis and recession, the deteriorating picture showed a global recovery that's still uneven from Australia to Germany.
Fed Chair Janet Yellen has said the central bank still expects to raise its benchmark rate this year, after foregoing on increase last month, a decision to delay that Vinals said he agreed with. But economists including former U.S. Treasury Secretary Lawrence Summers are questioning whether the world's biggest economy can withstand higher borrowing costs.
"The last time America fought a preemptive war in Iraq, it didn't work so well," Summers said Wednesday in an interview on Bloomberg Television. "A war against inflation right now would be a serious policy error."
Inflation Goal
The Fed's rate-setting committee has two more scheduled opportunities this year to raise interest rates, at their Oct. 27-28 meeting or their Dec. 15-16 gathering. While the U.S. jobless rate has fallen to 5.1 percent, inflations measured by the Fed's preferred gauge of price pressures rose 0.3 percent in the 12 months through August. The Fed's target for inflation is 2 percent.
"Frankly speaking when you look at the United States, in terms of wage and price inflation, you don't see that the conditions are there now for the Fed to increase interest rates," Vinals said.
The governor of South Africa's central bank said the debate about Fed liftoff is sowing uncertainty in global markets.
"The uncertainty isn't good for anyone. But it doesn't follow that if the Fed makes the first move, the uncertainty is gone," South African Reserve Bank chief Lesetja Kganyago said in an interview with Bloomberg TV in Lima. "Everyone will keep on asking will they continue on it or will they be on hold."
As the Fed ponders its next move, emerging economies are seeing credit conditions tighten, said World Bank Group President Jim Yong Kim.
"We are seeing dramatically increased demand for financing from us, because it's getting harder and harder for the emerging markets, and this is really across the board, to access capital," Kim said last week on a conference call with reporters in Washington.
Before it's here, it's on the Bloomberg Terminal.
LEARN MORE